PREPARE Call to Action to the Private Sector
Ten companies have responded to the PREPARE Call to Action, launched at COP27. GRP together with USAID and with input from the Office of the U.S. Special Presidential Envoy are collaborating on the Call.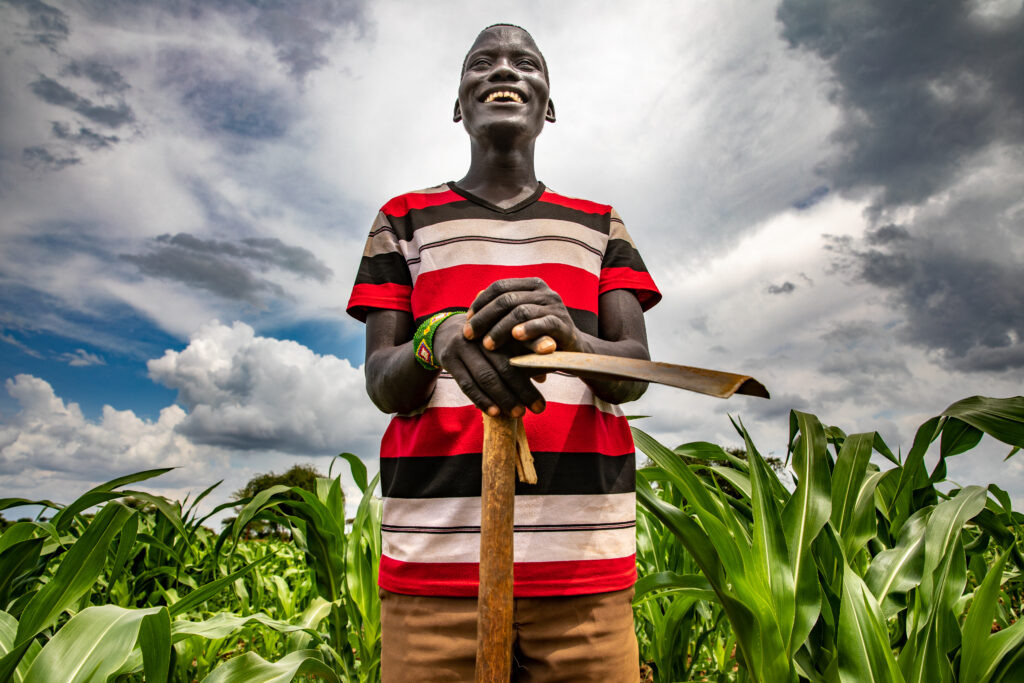 In their role leading the implementation of the U.S. President's Emergency Plan for Adaptation and Resilience (PREPARE), Administrator for the U.S. Agency for International Development (USAID) Samantha Power and John Kerry, U.S. Special Presidential Envoy for Climate today announced a global Call to Action for businesses to make new, significant commitments to signal the critical importance of building climate resilience in partner countries.
As part of this Call to Action launch, ten companies announced specific commitments to support steps that improve climate resilience for consumers and communities. This includes expanding climate information, financial products and services for adaptation, climate smart food security, and insurance. The Global Resilience Partnership (GRP), through the support it receives from USAID, will manage the Call to Action, with input from the Office of the Special Presidential Envoy on Climate. For more information on PREPARE, please visit whitehouse.gov/PREPARE.
This Call to Action recognizes the urgent need for both private and public sector action to address long-standing gaps in climate adaptation. It also acknowledges the progress on reducing emissions resulted, in part, from over a decade of public and private sector collaboration and that strong collaboration with attention to the needs of local communities, can drive further action on global climate resilience.
For these reasons, Secretary Kerry and Administrator Power call on the private sector to draw on its unique resources, expertise, and innovation to support inclusive approaches to climate adaptation. Together, we can remove barriers to investment in adaptation and build a future in which communities are able to thrive, even in the face of climate change.
GRP's CEO, Nathanial Matthews says 'We are thrilled to be working on this Call to Action with these fantastic partners. To tackle the challenges and grasp the opportunity both now and ahead, we urgently need the full strength of the private and public sectors to drive investment and implementation on Adaptation and Resilience. GRP's role will include connecting the companies to the best available resilience and adaptation science, supporting with the latest advances in resilience measurement, and linking the Call across our partners and with our commitment to the Locally Led Adaptation Principles of which we are a founding signatory.'
Ten companies responding to the Call to Action
Founding participants for the PREPARE Call to Action include Google, Gro Intelligence, Marsh McLennan, Mastercard, Meta, Microsoft, Pegasus Capital Advisors, PepsiCo., WTW, and SAP.
Company commitment summaries
Google:
Google's mission is to organize the world's information, making it universally accessible and useful. In 2018, as part of its Crisis Response program, Google began a flood forecasting initiative to help combat the catastrophic damage from riverine floods in the United States. This equipped those in harm's way with accurate and detailed alerts. In parallel to this Call to Action, Google will begin coverage for floods occurring in 18 new countries, 15 of those in Africa: Burkina Faso, Cameroon, Chad, Democratic Republic of Congo, Ivory Coast, Ghana, Guinea, Malawi, Nigeria, Sierra Leone, Angola, South Sudan, Namibia, Liberia, and South Africa. Google will moreover work with the U.S. government, national hydrometeorological services, and other key stakeholders affected by floods to co-create locally tailored services and improve the accuracy of alerts. And we're working to expand our Environmental Insights Explorer's Tree Canopy Insights tool to hundreds of cities by the end of this year so they can use trees to lower street-level temperatures and improve quality of life.
Marsh McLennan:
The insurance industry has unique risk finance, analytics and management capabilities that will be critical to enabling vulnerable communities to understand and act upon evolving physical risks associated with climate change. Marsh McLennan, together with the UN Race to Resilience, the UN High-Level Champions, and Adrienne Arsht-Rockefeller Foundation, will launch a new insurance and adaptation mobilization campaign seeking to engage the industry in an effort to scale its role in supporting climate risk reduction and adaptation. The campaign starts by showcasing 17 Pioneer Programs in dozens of countries that illustrate the new models, approaches and tools being developed to de-risk, finance and advance community-level risk reduction. In addition, this work aims to help standardize and potentially even quantify insurers' impact on climate risk reduction, and develop deeper dialogue among insurance leaders on how to institutionalize a longer-term approach to scaling the industry's role in climate adaptation.
Mastercard:
Mastercard operates at the intersection of people and the planet, driving forward efforts to ensure a digital economy founded on inclusivity and sustainability. Within this work, Mastercard is forging a new partnership with BFA Global dedicated to scaling a new field- building effort to accelerate innovative fintech-enabled solutions that help vulnerable households and enterprises build resilience and adapt to the impacts of climate change. The partnership will support the launch of a new climate-smart product innovation hub and strengthen learning and community-building efforts. Mastercard has also made a commitment to bringing 30 million people onto its Community Pass platform over the next five years. This effort provides smallholder farmers with access to a digital platform that connects them to a stable marketplace to sell their produce, provides them quality inputs and climate-smart agricultural advisory services to increase productivity and enables them with a digital ID and credit building opportunities as a part of the formal financial system. Furthermore, recognizing more than two-thirds of the population of the tropics — about 2.7 billion people — directly depend on nature for at least one of their most basic needs, Mastercard created the Priceless Planet Coalition to restore 100 million trees in essential forests across the globe.
Microsoft:
Microsoft is working with partners in Kenya and Egypt on the first global expansion of the AI for Good Research Lab, which will create a new team of data scientists on the ground in Africa that will work to turn data into action. Providing governments and decision-makers in the Global South with access to reliable climate data is key to avoiding the worst effects of climate change. To inform this work, together with the African Development Bank, African Climate Foundation, and African Risk Capacity Microsoft will establish a new Africa AI Innovation Council which will convene a high-level, multi-sector group of leaders to improve climate resilience in Africa. Further through an expanded collaboration between the AI for Good Data Lab and Planet, Africa-based data scientists will leverage satellite imagery of Africa to address challenges nominated by the AI Innovation Council with a special focus on adaptation and early warning systems.
WTW:
WTW is a global risk management, insurance, human capital and investment adviser with 45,000 people in over 100 countries. Working with UN Agencies since 2010 to support climate resilience, the company led the creation of the Insurance Development Forum (IDF), incubated the Coalition for Climate Resilient Investment (CCRI), and founded the WTW Research Network (WRN) in 2006 to enable open, practical, academic climate research. WTW has also implemented the most innovative parametric insurance solutions to protect exposed ecosystems and communities in the world's most vulnerable regions. To empower the PREPARE program, WTW commits our expertise and resources to drive and support development of the Global Resilience Index Initiative (GRII) planned to be fully launched at COP28 by the IDF and UNDRR. The GRII, our most ambitious collaboration to date, will provide open reference data, metrics and projections of climate resilience for all countries worldwide. This critical missing layer of the world's information architecture can support people, policymakers, and businesses to understand climate risks, and provide a basis for financing measures to adapt to and build resilience against climate change. The GRII also enables greater transparency on the impacts of financial flows to begin to shift capital toward activities that support climate resilient development.
Companies committing to advancing adaptation and resilience in response to the Call to Action
Gro Intelligence:
Gro Intelligence provides real-time, global data and AI-driven analytics that illuminate the complex interplay between the Earth's climate, environment, and economy helping key decision makers in business, government, and the nonprofit sector address the twin challenges of our day: increasing global food security and mitigating the impact of climate change. In response to the Call to Action, Gro commits to expanding its Gro For Good program that supports, worldwide, academic and non-profit research focused on developing a sustainable global food system that is resilient to climate change. In alignment with the PREPARE Action Plan, Gro also commits its continued support of objectives outlined by US agencies and other governments in their efforts to build, maintain, and deploy climate information services and early warning systems that will enable their citizens to make informed decisions about how to address the risks posed by a changing climate.
Meta:
​​Meta builds technologies that help people connect, find communities and grow businesses. Our mission is to give people the power to build community and bring the world closer together. Building community is at the heart of building resilience and adapting to climate change. Meta technologies reach 3 billion people globally, including some of the most climate-vulnerable communities. Meta's commitment to action on climate adaptation includes the following: First, Operations: integrating climate risk assessments into key business decisions such as infrastructure development, and partnering with local communities to build climate resilience. Second, Supply Chain: working with our supply chain partners to ensure they have the tools to identify the climate risks they may face. Assessing resilience to climate change is crucial to guiding our efforts to ensure the people and communities within our supply chain are prepared for climate risks. Third, Product Innovation: exploring ways our core products can be used to further inspire and drive climate action within communities, while also providing support to people affected by climate-related events. For example, following natural disasters and other crisis events, people and organizations leverage the capabilities of our platform and crisis response tools to offer help, and let family and friends know they are safe.
Pegasus Capital Advisors:
Pegasus Capital Advisors, L.P. is a leading global private markets impact investment manager which has concentrated on climate mitigation and adaptation investments for over 15 years. As the first U.S. private equity fund manager accredited by the Green Climate Fund, Pegasus is dedicated to fostering sustainable and inclusive growth while providing attractive returns for investors. In emerging markets Pegasus is focused on green infrastructure, sustainable agriculture & ocean production, ecotourism, energy transition & efficiency and recycling. Pegasus seeks to deliver systematic change and impact at scale through its investments, thought leadership, and purpose-led public-private partnerships. In response to this call to action, Pegasus intends to mobilize more than $500 million to invest in adaptation strategies to reduce risks for communities in countries most vulnerable to climate change through the Global Subnational Climate Fund and the Global Fund for Coral Reefs, two blended finance initiatives whose investments are managed by Pegasus and anchored by the Green Climate Fund. Pegasus will seek to scale its investments activities that include, for example, utility scale solar and battery storage in the Dominican Republic and distributed solar energy in Mexico, Indonesia, and South Africa to foster a secure and affordable supply of clean energy, ecotourism as an adaptation strategy in Ecuador and Bahamas with integrated conservation and restoration efforts to protect natural habitat, and agroforestry projects in Jamaica and other countries in LAC and Africa for increased food security while simultaneously addressing climate change, biodiversity conservation, and social well-being.
PepsiCo
PepsiCo Positive (pep+) is a strategic, end-to-end transformation of our business with sustainability and human capital at the centre, including global commitments to regenerative agriculture, sustainable sourcing and livelihood improvement. PepsiCo sources ingredients from approximately 60 countries supporting over 100,000 agricultural jobs. PepsiCo is working to source crops and ingredients in a way that accelerates regenerative agriculture and strengthens farming communities. PepsiCo supports the advancement of farming practices to optimize crop yields, respect human rights, improve livelihoods, build resilience to the negative impacts of climate change and secure supply. Examples of PepsiCo's work across the globe in supporting adaptation and resilience to climate change:
To address the risks of climate change and build resilience with their potato farmers, PepsiCo is driving irrigation water use efficiency in areas under high water stress through their Regenerative Agriculture and Livelihood programs in the Africa, Middle East and South Asia regions. This has resulted in improved irrigation efficiency for potatoes by 32% vs. 2015, avoiding the use of 5 billion liters of water in 2021 vs. 2020.
PepsiCo has also created the Positive Agriculture Outcomes (PAO) Fund, which provides grants to support innovative projects across different countries to advance PepsiCo's ambition to spread regenerative practices. For example, PepsiCo is studying potato fields to determine which cover crops are most beneficial for potato farmers. These insights will inform their regenerative work with potato farmers around the world.
PepsiCo will work with the U.S. government and local stakeholders to continue to implement climate-smart agricultural programs.
SAP
SAP's purpose is to help the world run better and improve people's lives with sustainability at the core. SAP will develop digital tools to help with adaptation, resilience, and preparedness in local communities. SAP is committed to developing data driven solutions around climate adaptation and resilience in key areas such as health, infrastructure, water and more including enabling pathways for employment and entrepreneurship in the green and digital transition. SAP will focus on offering agile, real-time application and visualization of data via analysis, prediction, and simulation for adaptation. SAP works on disaster prevention planning using design thinking and improves awareness through training and education. SAP also supports climate preparedness and response through targeted corporate social responsibility engagements.
For additional information visit: https://www.usaid.gov/climate/adaptation/prepare-call-to-action