Economy and Finance for a Just Future on a Thriving Planet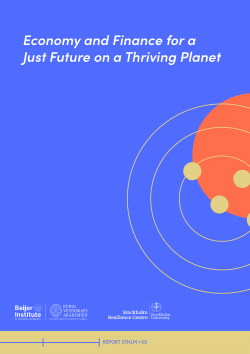 Our living planet, with its biosphere and climate system, has changed at unprecedented speed since the world's nations gathered in Stockholm in 1972. Changes in the climate and Earth system, which were assumed to unfold in a distant future and only affect future generations, are happening now, with increasing speed and force. We now live in a fundamentally new planetary reality where we are more connected, where the climate system is destabilized, and where the biosphere that supports humanity is becoming more fragile and depleted. This new reality has repercussions for life on Earth, and needs to be the basis for actions aiming to transform the financial sector and our economies towards just futures on a thriving planet.
As an Independent input into Stockholm+50, this report explores the direction the financial sector and our globalized economy need to take to change course. The insights presented here build on decades of collaborative work within systems thinking, ecological economics, resilience science, and Earth system science.
Visit the Economy and Finance report website: financetransformation.earth/