We are excited to announce the winners of the second round of the Knowledge into Use awards! The awards celebrate creativity, embrace innovation, and showcase the latest resilience evidence. We received 90 applications from various organisations, and after careful judging, we selected four winners across three categories: performing arts, visualising evidence, and participatory approaches connecting arts and science. Each winner will receive a prize of 100,000 Swedish Krona (about $8,900 USD) and support in showcasing their work.
Meet the winners:

Performing for Change
Noble Arts Entertainment, a youth-led creative organisation situated in Bamenda, Cameroon, aims to equip young people with the necessary skills and resources to utilise the arts, particularly theatre and film, to raise awareness and challenge their local communities. Their "Performing for Change" project tackles food insecurity, a problem exacerbated by violence, and climate change in the conflict-affected northwest region of Cameroon. The Anglophone regions of Cameroon are especially affected by these issues, making it increasingly difficult for farmers to cultivate crops, resulting in food shortages and malnutrition.
This project targets 300 young people and families affected by the ongoing crisis in the region. They organise theatre and entertainment workshops, as well as community engagement and educationalactivities focused on sustainable agricultural practices. The performance itself combines elements of storytelling, music, and movement, all centred around the experiences of individuals and communities in the Northwest Region. Resilience and the collective efforts is a key theme in their performances. By highlighting the resilience displayed in the face of adversities, the theatre performance aims to inspire action and promote innovative and sustainable solutions.

In Which Language Does the Rain Fall?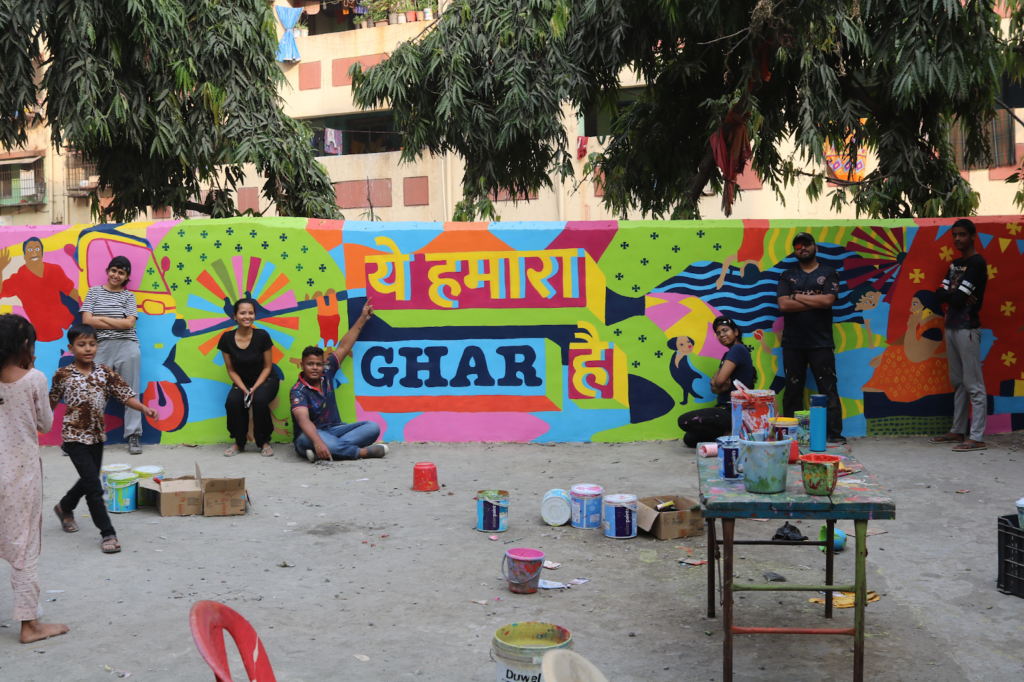 Community Design Agency (CDA) is a social design organisation based in Mumbai, India. They believe that architecture, design and arts can be used to promote equity, justice, and inclusion. They collaborate closely with most impacted communities residing in inadequately built environments and create safer spaces and enhance climate resilience in their neighbourhoods.
As part of their neighborhood regeneration efforts, their project In Which Language Does the Rain Fall? aims to collaborate with the residents of one of the most affected Resettlement and Rehabilitation (R&R) colonies in Mumbai's Govandi, Natwar Parekh compound. This colony houses 25,000 people across 61 buildings in five hectares of land, with each house being as tiny as 21 square metres. As a result of poor planning, more than 70% of residents live with no access to proper sunlight, air ventilation or open spaces in and around their homes. From reclaiming public spaces, co-creating a community library to organising the first-ever Govandi Arts festival, CDA's initiatives with the residents of Govandi are focused on the intersection of health and well-being, livelihoods, gender rights and safety, and local governance. CDA believes that communities have deep insights into the workings of their environment, and base their approach on this community knowledge.
Through the Knowledge into Use award, Natasha Sharma, Public Arts and Design Lead at CDA, are collaborating with climate educators Nikhil Sharma and Himanshu Meena of Elementree, to work with young adults and women of Govandi. Through participatory arts and storytelling approaches, they are facilitating a series of creative workshops to localise, vocalise, and visualise a vernacular vocabulary for climate communication with the young people in relation to climate change impacts in their neighbourhood.
Amava Oluntu- Youth Visions in a Changing Climate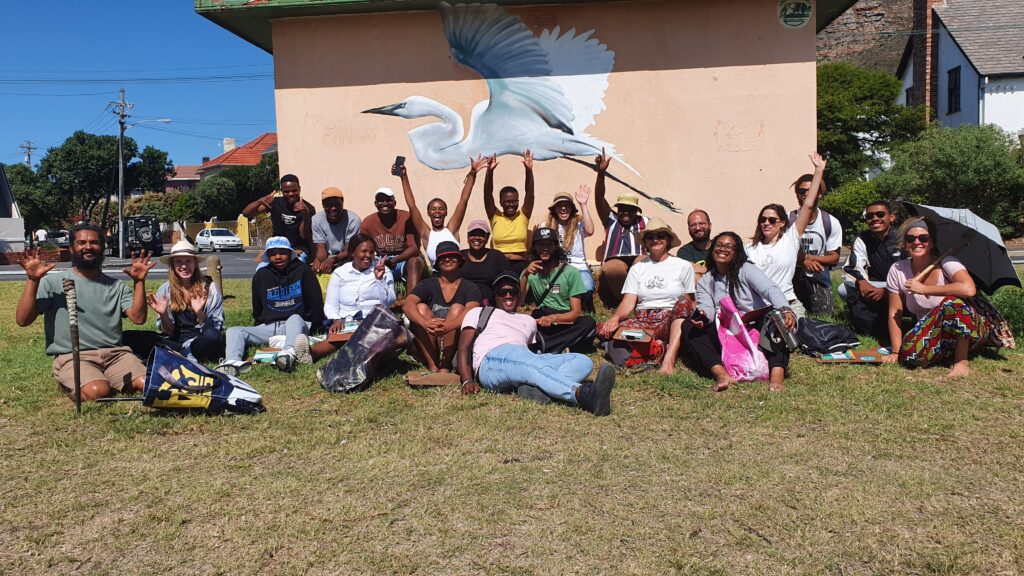 Youth Visions in a Changing Climate is a collective project anchored at Amava Oluntu and combines artists, activists, researchers and practitioners from HandCantrol360, the Beach Coop, Centre for Sustainability Transitions at Stellenbosch University and the City of Cape Town. While the project is intergenerational, the focus of the project is on youth visions for more just and flourishing futures in times of climate, environmental and social change within a cityscape. The project builds on multiple collaborations including work connected to Youth Nature Futures, Pollinating Pride in People, Stories for a Better Tomorrow and uses arts-based and participatory approaches to democratise science in public spaces, strengthen transformative capacities and to jointly envision what a resilient, thriving and connected Cape Town can look and feel like for current and future generations. Through a series of workshops the collective has co-designed a mural that will be painted in a public space in November/ December 2023, combined with an immersive ocean experience as an invitation for learning, healing, connection and dialogue on how to co-create the change that is needed.

Climate Change Scenario to Informed Community-Based Adaptation and Planning in Nepal (CCSICAPN)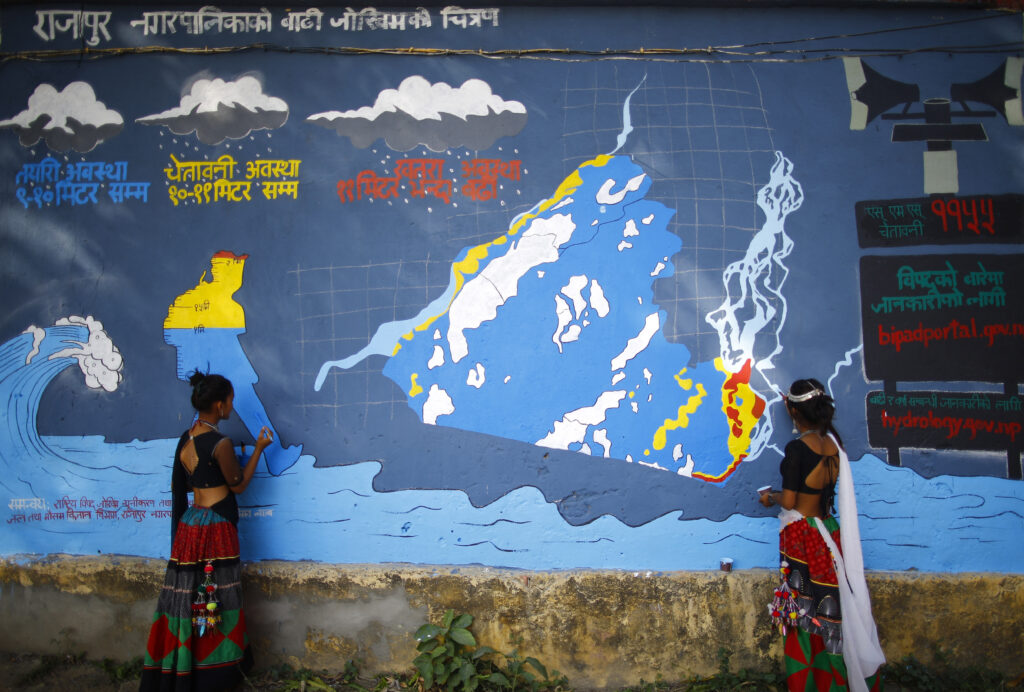 The Youth Innovation Lab (YI-Lab) operates within the Rajapur municipality, which is situated between the Geruwa and Karnali rivers. Despite having established early warning systems this area is susceptible to floods that significantly disrupt the lives of the local community leading to economic losses from submerged houses and farmlands. The long-term effects of such disasters present challenges in effectively communicating their consequences. The YI-Lab employs an innovative approach by combining data-driven decision-making with data visualisation tools, such as risk maps, and incorporating them into visual art forms like murals. This creative approach aims to raise awareness among communities residing in disaster-prone regions, empowering them to better comprehend the risks they face. They have previously developed a flood hazard map with a 100-year flood return period, including essential infographics and illustrative elements showcasing early warning systems, disaster alert helplines, and relevant websites. This map served as a reference for creating the actual mural. Together with the map, drawings from thirty curious and artistic children were utilised to craft a unique mural placed in the surrounding area.
They will utilise the Knowledge into Use prize to create murals, which serve as a powerful means of conveying essential flood-related information and portraying stories of human resilience. These murals will depict the implementation of early warning systems, provide information about flood risks, and provide guidance on understanding data and information for the community to make informed decisions regarding flood risk mitigation and adaptation. By doing so, this initiative aims to drive advocacy and policy changes, promoting the adoption of data-driven decision-making in municipal-level planning for community safety.