Shea trees grow naturally on 63 million hectares in traditional farming systems in Nigeria. The trees are integrated with crops on smallholder farms, creating an agroforestry landscape that supports shea farming communities. Unlike most agricultural cash crops, women traditionally have retained control of shea related revenue. Women shea collectors belong to farming households and use about one quarter of their shea income to invest in farming activities. Around $20 million is generated every year in Nigeria from the shea. Shea is sold during the farming lean season, which makes it particularly valuable to bridge the gap between two harvests.
But these shea producing regions are more and more affected by climate change with the parklands and communities experiencing higher temperatures, lower rainfall and more droughts, which reduces farmlands, crop yields and income. In addition shea tree populations have been declining due to tree removal, particularly for charcoal use, lack of new planting, long gestation periods, reduced fallow periods and poor parkland management practices.
Previous programs to tackle these challenges have either followed a monocrop agricultural approach or shea industry activities have been undertaken without the consideration of partnering with other agriculture value chains, like growing yams, rice or maize. However a recent shea agroforestry farm model has been set up to marry the two approaches and capitalise on the climate and economic resilience potential that shea trees have in the savannah agroforestry parkland ecosystems.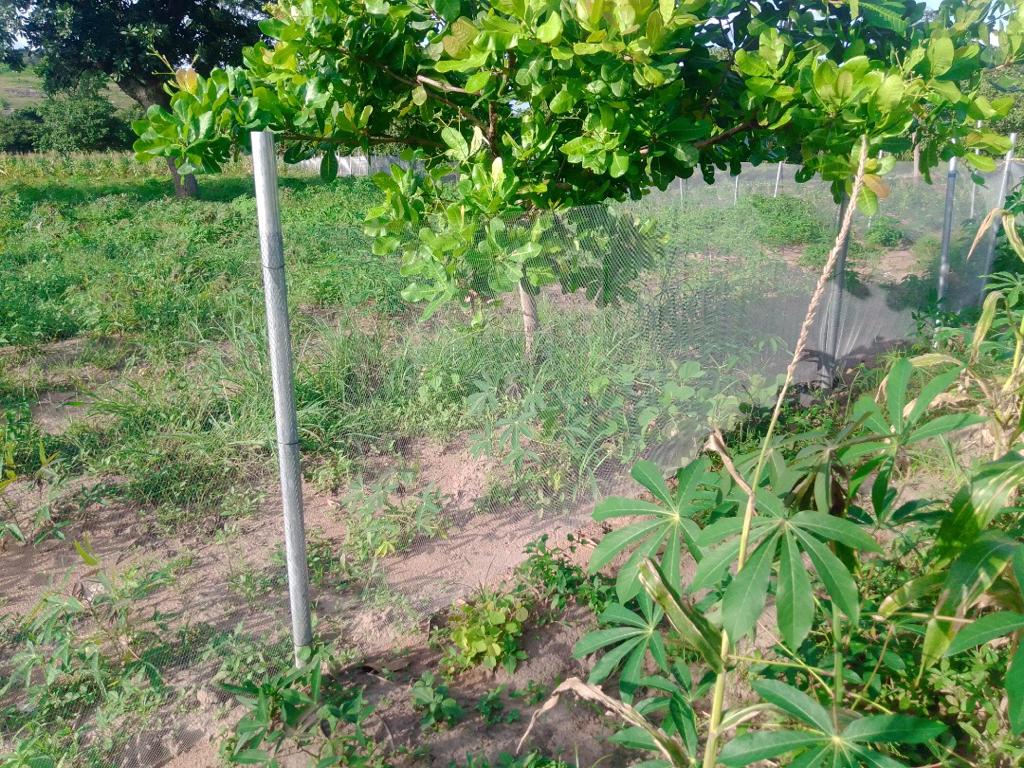 Global Shea Alliance
The farm model adopts a simple whole farm approach to leverage this diversity for maximum climate adaptation impact. Additionally, a lot of deforestation and tree cutting takes place on farmlands which the farm model will remediate and provide alternatives to fuel and also income generating ideas.
This farm model, being implemented by the Global Shea Alliance in partnership with the European Union Global Alliance against Climate Change Plus (GCCA+), has been set up in both the Oyo and Niger States of Nigeria and is based on 3 main components:  beekeeping, intercropping and tree management on farms.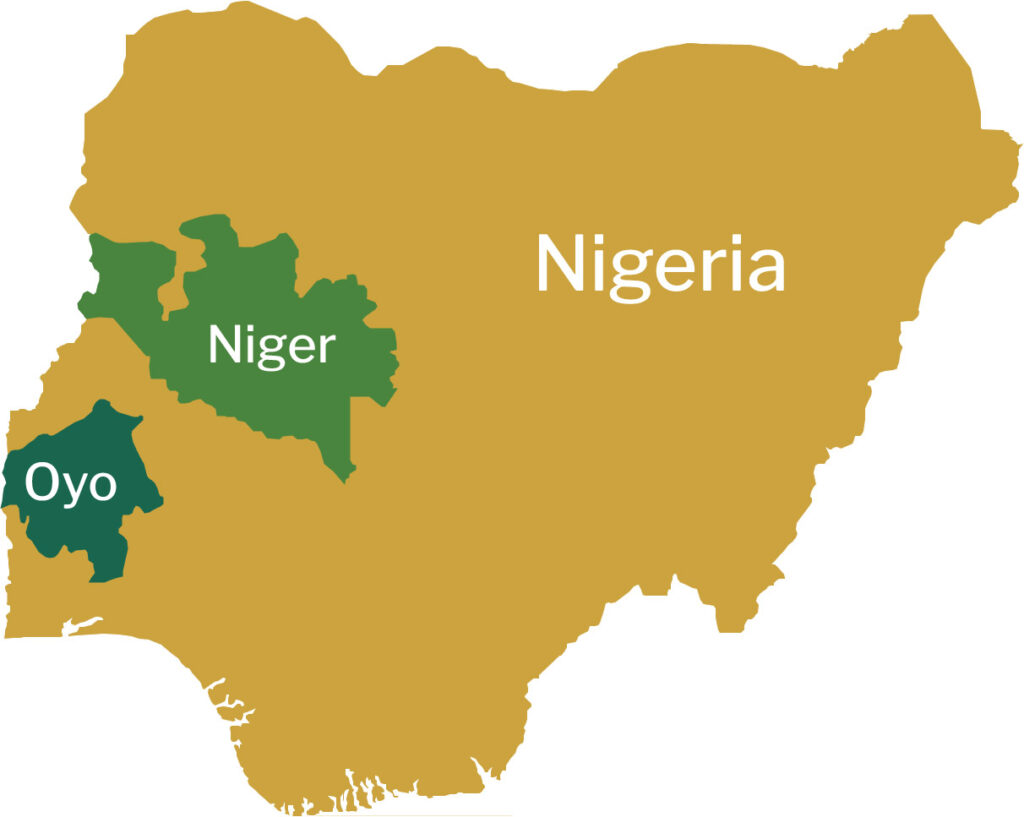 Victoria Ige, Ifelodun Cooperative President, one of the participants of the project in Oyo State said "Being part of this farm model has been life changing. Straight away I was shown ways of doing things that I didn't know before and even without waiting for the crops to grow, I started doing them on my own farm as I could see how beneficial they would be. Also, being shown how to keep bees and harvest their honey means that I can make more money all through the year, which is important to me and my family."
After consultation with community leaders to identify and secure the land for the project, on-farm training was carried out and the crops were selected and planted. Agronomy farm maintenance practices were put in place with conservation and other climate smart farming practices, like the production and use of organic fertilisers. The farmers and their neighouring communities received training on good beekeeping practices with beehives being provided, which also provide an alternative income source.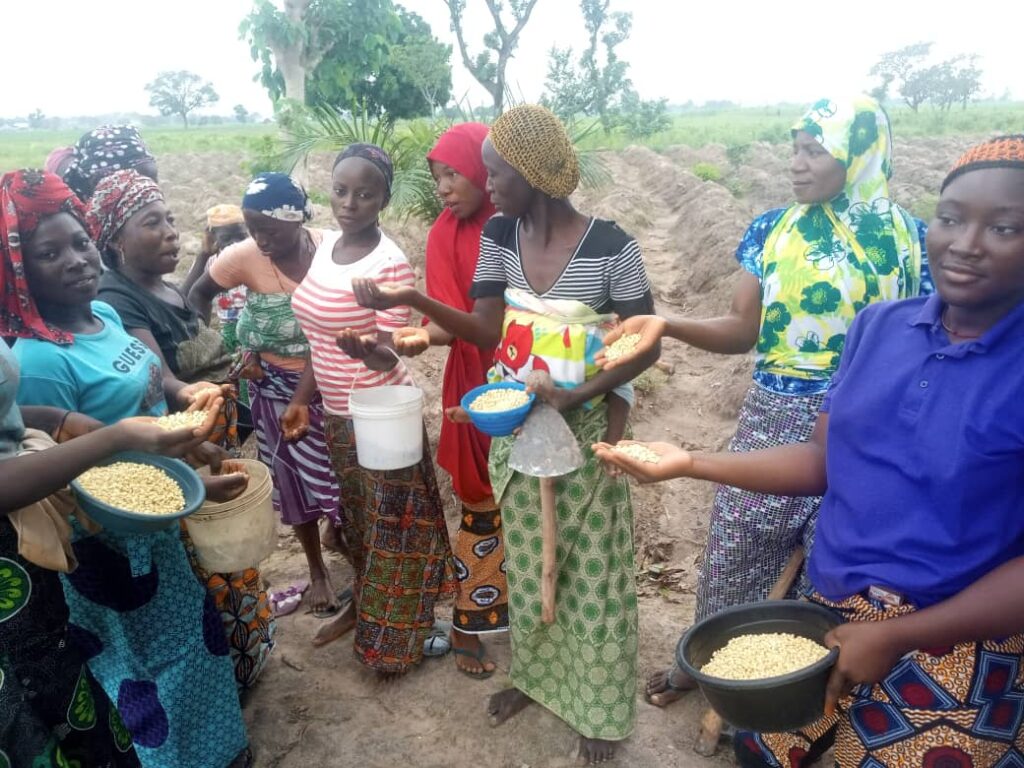 Global Shea Alliance
The season went well and crops like maize, rice, okra and peppers were successfully harvested at the end of the rainy season. The farming has continued despite the lack of rain and dry season farming is currently being introduced using pipe irrigation and stored rain water. Although we are only half way through the project, over 3.5 metric tons of produce have been harvested, including a metric ton of highly nutritious orange fleshed sweet potatoes, rice, okra, maize, beans and groundnuts, as well as 2,100 yam tubers. This was farmed on only 4 acres of land.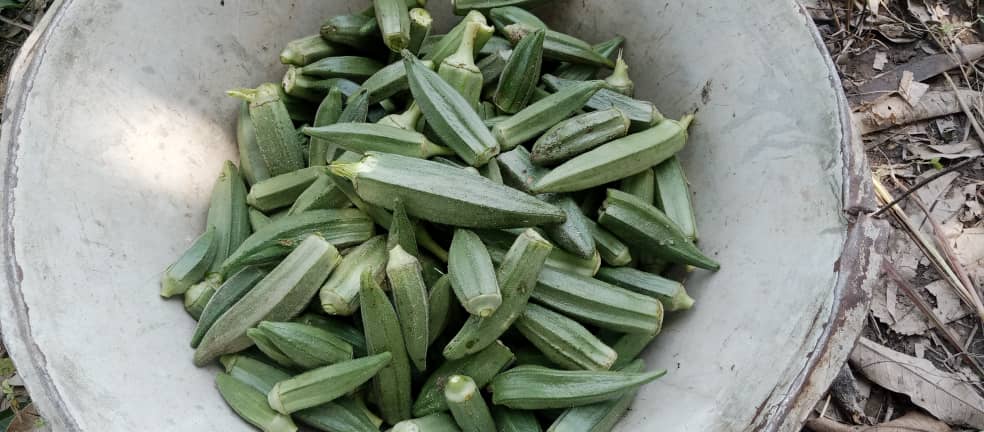 Global Shea Alliance
The introduction of ecosystem services has brought value to the farm model and benefits to the environment. Beekeeping introduces biodiversity through plant pollination, the planting of trees and crop diversification improves soil health leading to less drought and floods and yield increases. The waste produced from shea butter production and the leaves from shea and other trees are used as a fertiliser. The success of these ecosystem services is the interdependence of the three components which leads to climate change resistance, reduced use of chemically produced and costly farm inputs and the provision of habitats for bees and other insects and wildlife.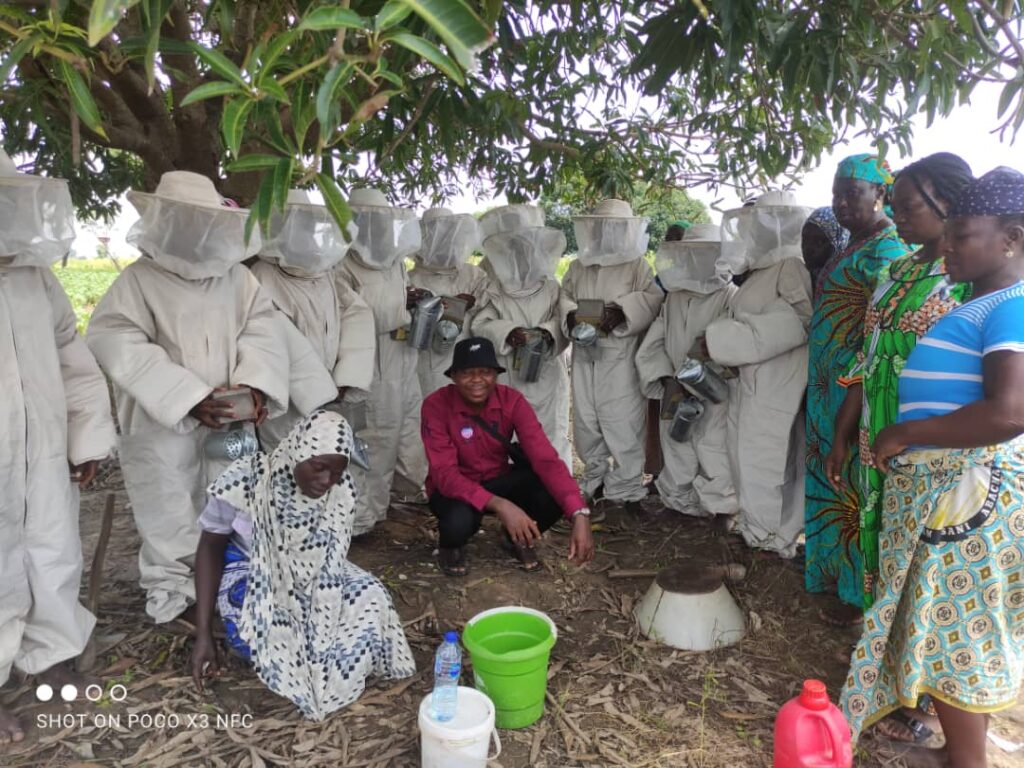 Global Shea Alliance
"The agroforestry farm model has already shown that strengthening traditional shea agroforestry systems delivers economic benefits and is important to both smallholder farmers and the agriculture industry. We are excited to see the full findings of this exciting project and to implement them amongst all our shea producing communities." Ali Saidu of CEO of Salid Agriculture Ltd.
Whilst a full environmental and economic evaluation is currently ongoing, there are some early learnings from the first half of the project.
Planting must be carried out at the optimum time to meet the prevailing weather conditions, after the rainy season has started and avoiding the early rains that are inconsistent and irregular.
Training farmers about beekeeping and introducing beehives was beneficial in two ways. Firstly as an income generator throughout the year (especially when the additional income generated during the shea season was not available) and for cross pollination and increasing biodiversity.
The introduction and sole use of biofertiliser (like naturally generated manure) positively impacts yields, despite the belief that using costly and harsh chemicals is best. As well as the increase to yields non chemical fertilisers contribute to climate resilience as they reduce greenhouse gas emissions that stem from chemical fertilisers.
Farmer's enthusiasm of applying what they learned to their own farming activities, early in the project as they understood the effect on their economic income.
Once the farm model project has finished, we will carry out economic and environmental evaluations to quantify and qualify the benefits. We will also share lessons learnt in the implementation so that the model can be upscaled to realise the benefits in full. The Global Shea Alliance will publish and share the results with its member organisations so that the benefits and improvements can be implemented through Nigeria and West Africa to improve the incomes and livelihoods of those who farm amongst the shea parklands.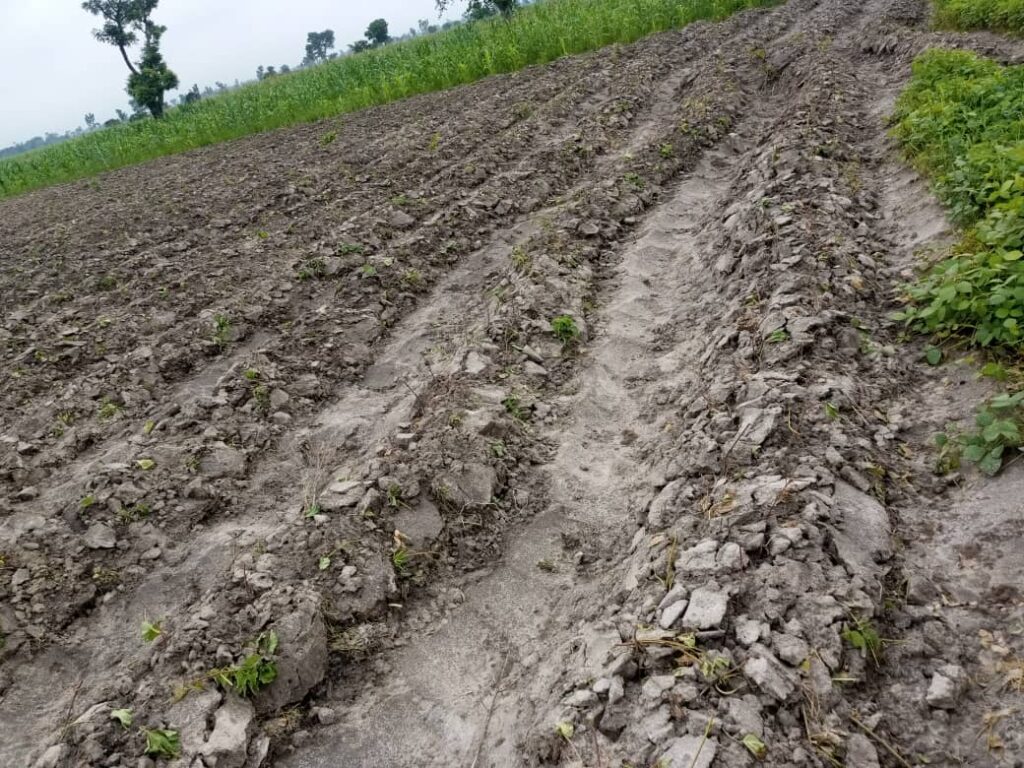 Global Shea Alliance
The GSA will be present at COP15 in Abidjan, Côte d'Ivoire and will be leading the session, Restoring parklands to unlock business opportunities: The shea agroforestry farm example at the Business Forum on Wednesday, 11 May from 12:45 – 13:45. If you would like to find out the latest on this innovative project, please pay us a visit.
For further information, please contact Marie Veyrier: mveyrier@globalshea.com
The featured image shows co-operative members sharing out maize for sowing.