Droughts and floods go hand in hand in Ethiopia. During the rainy season, floods are commonplace, but when the season changes droughts take over as the norm. This combination of floods and droughts tests the resilience of local communities. In Northern Ethiopia, this is especially true, where the Amhara and Tigray regions experience both extremes almost every year. As a result, these regions would often be water insecure due to a drought or lose crops to flooding. Yet, road water harvesting can help transform these risks into an opportunity for new sources of water, better rural roads and youth employment opportunities.
MetaMeta Research is one of 10 challenge winners of the USAID funded Global Resilience Challenge to transform interconnected risks into opportunities. Since 2015, MetaMeta Research with Mekelle University and the Ethiopian government have implemented the Roads for Water (RfW) project. The project has enabled farmers to use water from roads that previously would cause flood damage, by intercepting the water and guiding it to recharge areas, surface storage places or distributing it over farmland. The project has brought together government stakeholders from the agriculture, water and roads sectors and used extensive training of trainers to scale its approach and benefit millions of people in Ethiopia.
At the end of February, MetaMeta organized a road trip through northern Ethiopia. The road trip stretched from Lalibela to Soqota, then from Aksum to Adigrat, and finally from Adigrat to Mekelle. During the journey, Dr. Taye Alemayehu, Getachew Engdayehu and Dr Kifle Woldearegay Woldemariam showed Simone Verkaart from GRP a number of the intervention sites. They had the opportunity not only to observe the road water harvesting (RWH) structures that were constructed but also to meet local partners and beneficiaries. Below are some of their stories evidencing the various benefits of road water harvesting in Amhara and Tigray.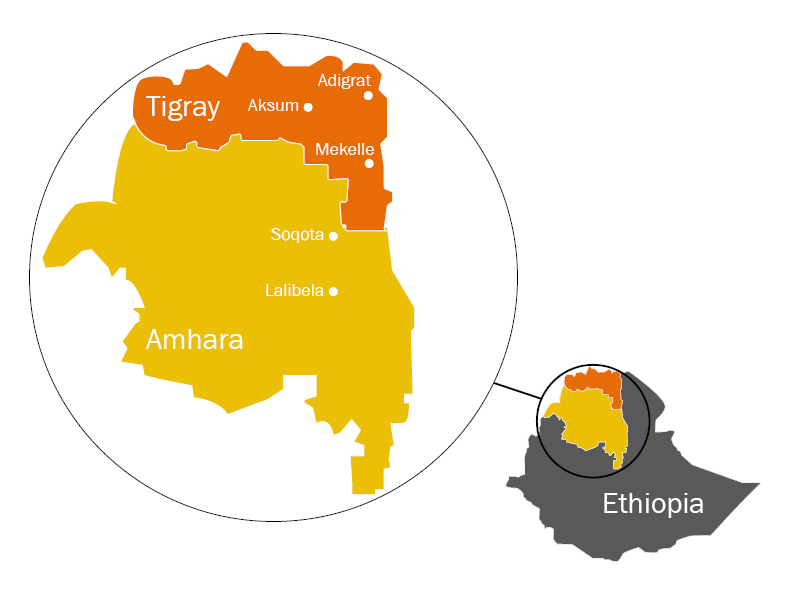 Lalibela to Soqota
Between Lalibela to Soqota, at the Tsadke site (Gazgibla Woreda), over 300 people were gathered as part of the government's mass mobilization program. The participants were engaged in road water harvesting activities as a result of the RfW project. Getachew Engdayehu, Director for the Natural Resources Directorate at the Amhara Bureau for Agriculture and Natural Resources, explained that during mass mobilization people contribute 20-40 days of voluntary labor to soil and water conservation activities. In Amhara alone, every year about 4.6 million people participate in mass mobilization campaigns.
Further on the road to Soqota, two springs have been uncovered through road construction. Before the project these would be covered up, which wastes the resource and can damage the road later on. The RfW project trained local government partners on how to protect and utilize such springs. As a result, the protected springs provide water to schools, churches and communities.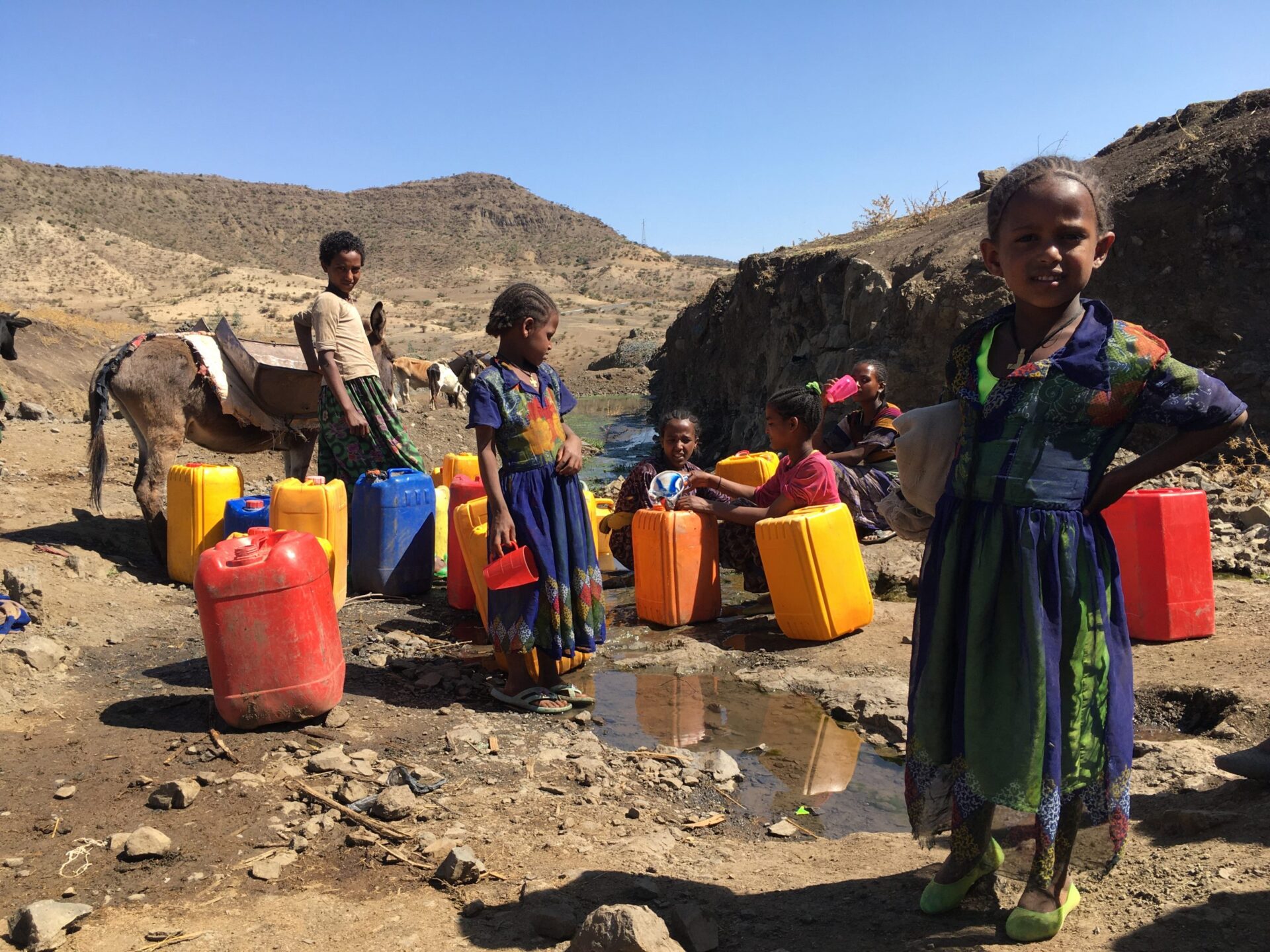 Dr. Taye Alemayehu, MetaMeta's Ethiopia country representative and Assistant Professor, Addis Ababa University, explains that before the RfW project, road, water and agriculture sectors often opposed each other. However, by including consideration for roads into wider soil and water conservation efforts, water retention is optimized and damage minimized. This is the novelty that has been introduced by the project, which has been widely embraced by regional and federal governments across sectors.
Aksum to Adigrat
At Sero site, between Aksum and Adigrat, Dr Kifle Woldearegay Woldemariam, Associate Professor, Mekelle University, advised local authorities to implement road water harvesting structures from 2015 onwards. These include upstream and downstream check dams integrated with wells. Now, almost 5 years later, deep gullies (up to 30m) have been filled, the water table has risen, communal grasslands have been restored and the wells provide a reliable source of drinking water.
Further along the road, an upstream check dam can be seen. The government constructed it five years ago to act as a buffer and store water. Nearby is a new well that provides water for the community. Mrs Goey Woldenche uses the well to fetch water. She says she is thankful for the water provided by the project in collaboration with the government.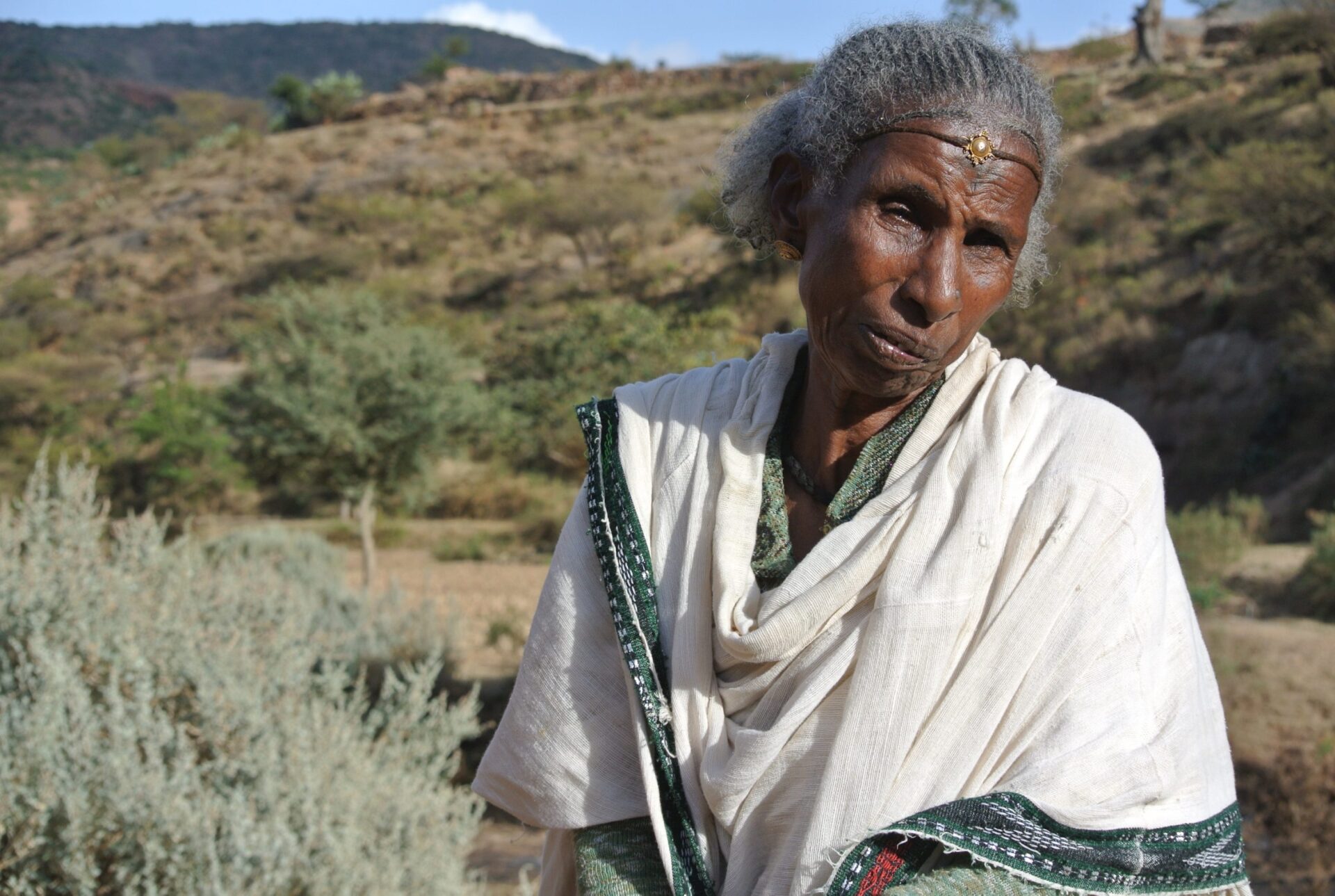 At a culvert under the road, a handpump was recently built. Women and children from the nearby community use it to collect water. Yosef Welay Tekue (M) and Feyori Mulu Welay (F) take turns pumping water. They are happy because now they can spend more time studying and playing rather than going long distances to fetch water.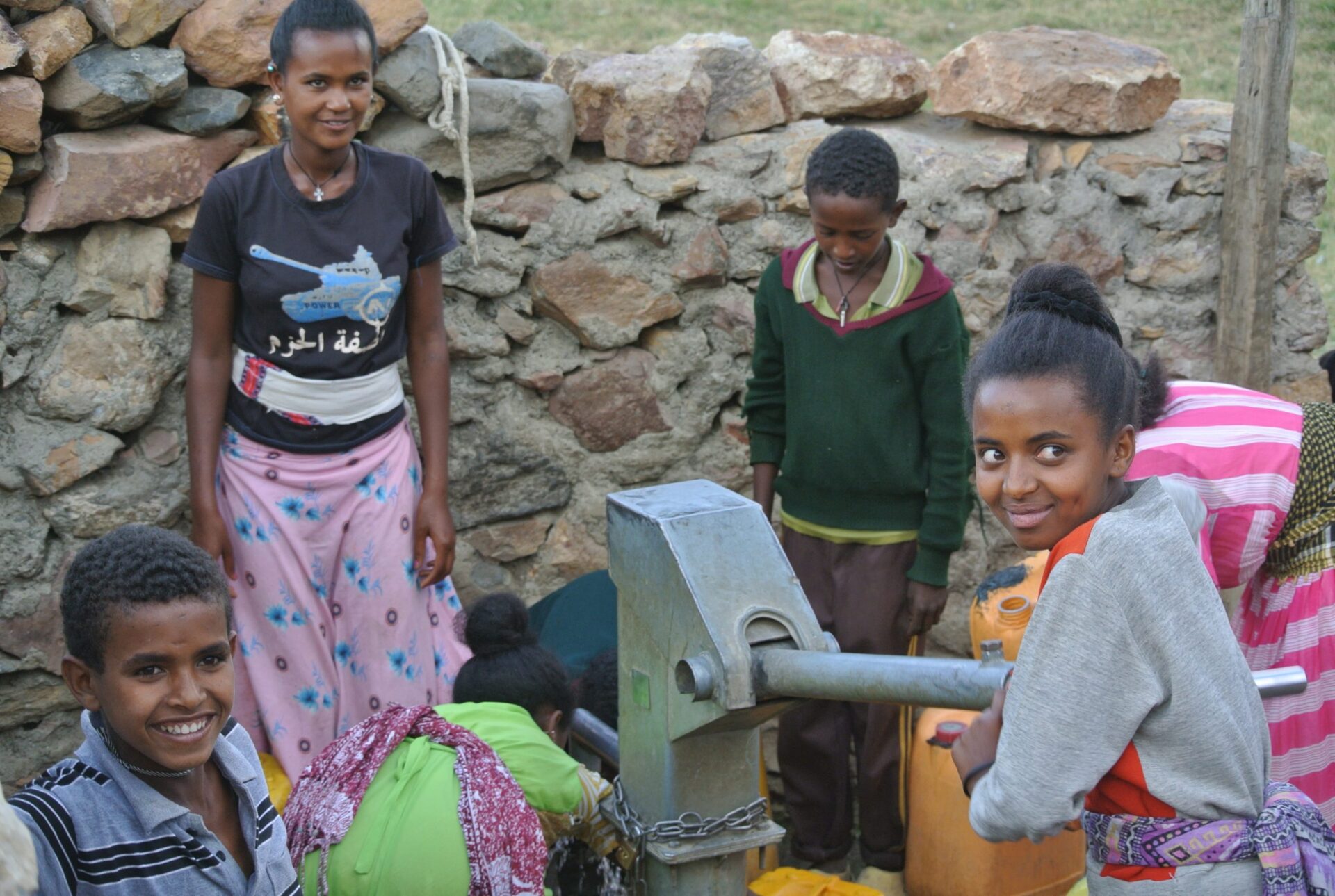 Adigrat to Mekelle
On the last leg of the trip at the Edagahamus site, a big pond has been excavated next to the road. Even though it is the dry season, the expanded pond is filled with water useful for groundwater recharge, livestock watering, irrigation and sand mining. Mekelle University tested the sand quality and found it to be of superior quality for making concrete.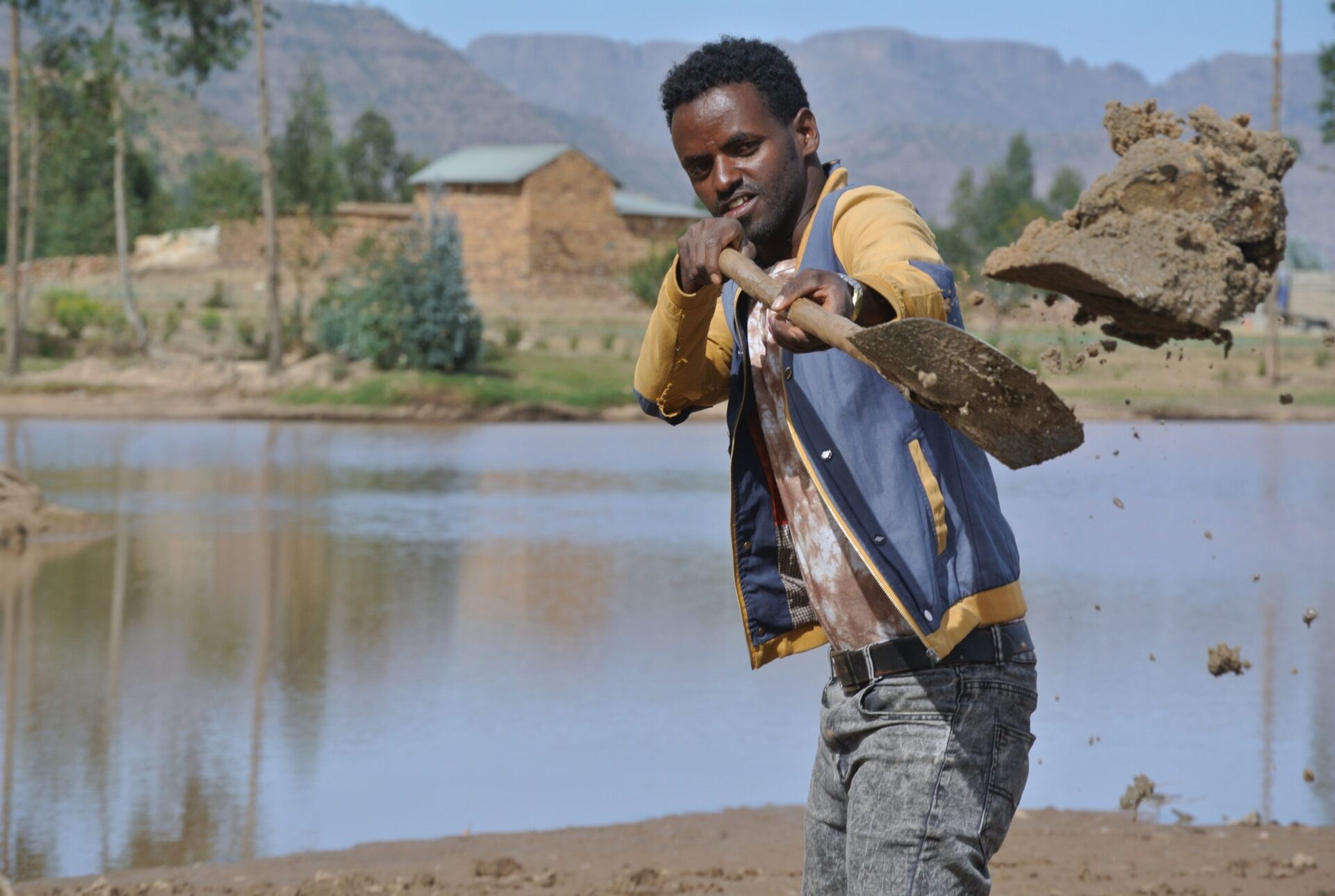 At the site, a group of young men joined the road trip group, keen to sell sand. They are part of an income generating youth group of 25 people. Yohanes Alemayehu (35), Awot Gebregziher (25), Gebregergis Hagos (26) and Teklay Gebretsadik (22) are part of this group and happy with the opportunity to make an income and savings from selling sand. Without this opportunity, they say they would have to migrate to Saudi Arabia, Europe or America. But since they are able to support themselves and their families, they are happy to remain.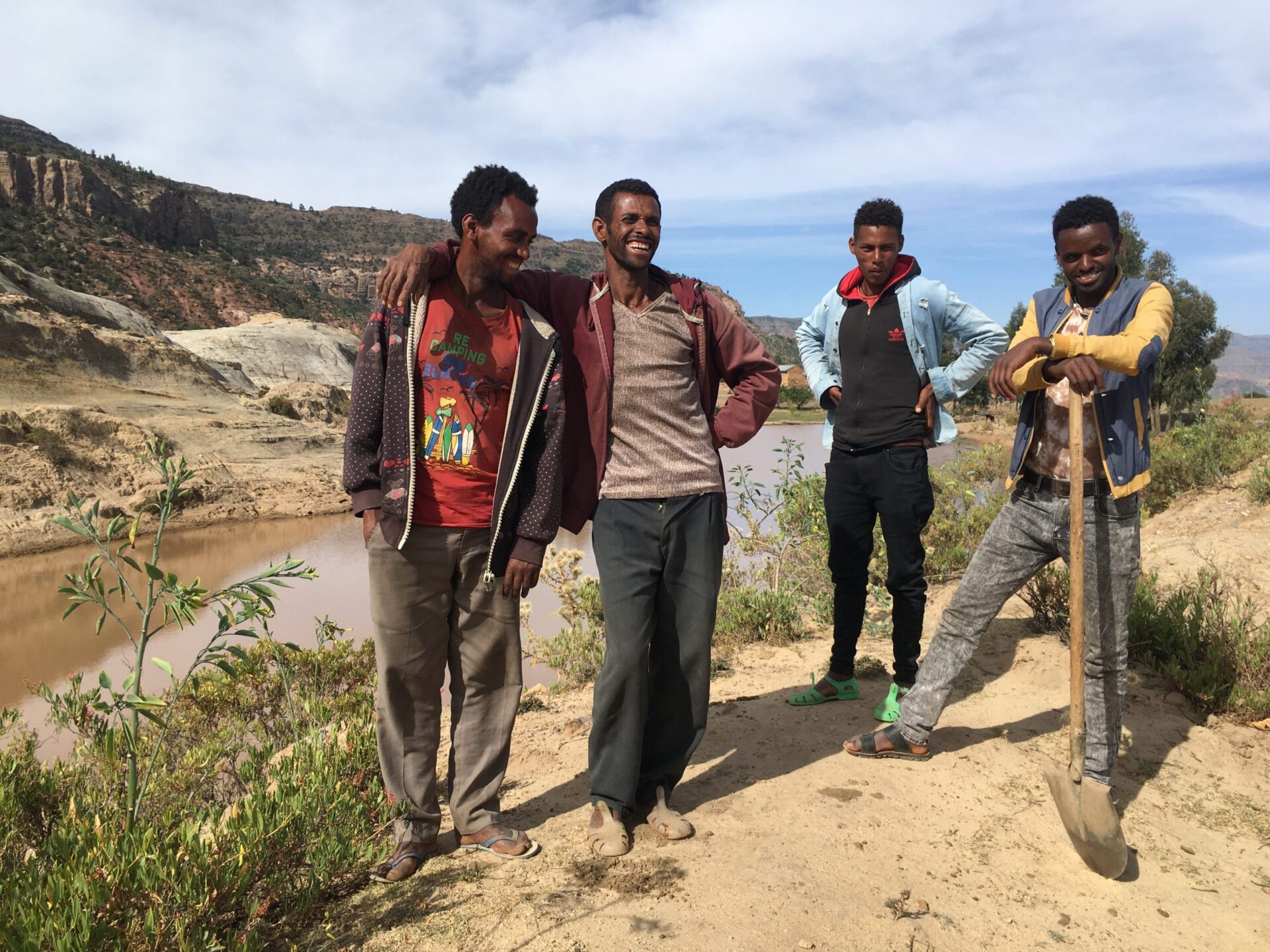 Road water harvesting structures can be observed all the way to Mekelle. For example, there is a pond that utilizes run-off water for livestock watering and groundwater recharge – where cattle and donkeys can drink. Across the landscape, the benefits of road water harvesting and wider conservation efforts are everywhere.
Under the Roads for Water project, MetaMeta has supported over 4 million beneficiaries, trained over 3,000 people and 55 institutions, which have now incorporated road water management into their activities. The approach has been adopted as national policy in Ethiopia. MetaMeta's next steps are to cement the scaling of the project from the national to international level. They have received funding from various sources and are going to expand their work to Yemen, Nepal and Bangladesh. They have also created guidelines about how to build roads, which has been accepted by the World Bank and Asian Development Bank.
All photos and videos are credited to Simone Verkaart