After meeting at the Resilience Evidence Forum in June, USAID Global Food Crisis Coordinator and Feed the Future Deputy Coordinator for Development Dina Esposito and Global Resilience Partnership (GRP) Chief Executive Officer Nathanial Matthews continue their discussion on resilience priorities, the role of evidence in building resilience and how innovative partnerships can help.
Dina: Strengthening resilience is a large, multi-faceted task. What do you see as the key priorities that need to be in place to ensure this shift is successful?
Nathanial: Innovation, knowledge and policy are key interlinked areas for GRP to ensure that we advance and strengthen resilience. Embracing resilience encourages innovation in finding new and flexible solutions that can adapt to changing circumstances. This fosters a culture of experimentation and learning, which is essential for addressing complex challenges effectively. A strong scientifically-backed understanding of resilience, including measuring and testing resilience is also fundamental. This includes ensuring that resilience encompasses more than just "bouncing back" to the status quo, but that it also encompasses adaptive and transformative capacities and allows systems to continue to evolve in spite of shocks and stresses. Resilience principles should be integrated into national and regional policies and development plans. Advocating for resilience at international forums can lead to knowledge exchange, sharing best practices, and coordinated action. In short, leveraging on the ground innovation that demonstrates resilience's effectiveness and linking it directly to knowledge and sharing, and policy engagement allows us to enhance resilience, surface new solutions, and amplify action and impact.
Dina: GRP and USAID have a strong partnership, including collaborating on the Resilience Evidence Forum, which took place earlier this year and brought more than 200 people together in Cape Town and 1,000 people online. Drawing from this, what factors do you think are important for building collaborations focused on resilience?
Nathanial: We see partnerships as a key aspect for effective and coordinated responses to global challenges. USAID has been a key partner of GRP's for almost 10 years. Compared to many other organizations, GRP's relatively small size provides us with agility and maintains low overhead costs, allowing us to allocate more resources to support our locally-led partnerships. The support USAID provides to our initiatives and projects to advance resilience has positively impacted millions of people, thousands of organizations, and helped place resilience at the forefront of policy and dialogue. Several factors are important for building strong collaborations focused on resilience including a shared vision, mutual trust and credibility, diverse participation, especially local voices including women and youth, complementary expertise, and a long-term commitment from both sides. It's also important to celebrate success, but not to rest on our accomplishments. I believe GRP and USAID share the same drive for measurable impact, learning and improvement, which is part of what makes the partnership so productive and enjoyable!
Speaking of our partnership and the Forum, thank you for joining us and providing a donor's point of view. For you, why is it important to highlight the latest resilience evidence and what type of evidence is needed to strengthen the case for investing in resilience?
Dina: Coming away from the Resilience Evidence Forum, I am appreciating both how much progress has been made and how much more we need to do. For more than a decade, USAID, through the U.S. global hunger initiative Feed the Future, has developed innovative solutions to build resilience and to measure our impact so that we can learn and adapt as we go. We have developed groundbreaking metrics, like shock response monitoring systems and resilience indices, and invested in qualitative and quantitative data collection all to better understand "what works" when building resilience. While we've made strides, we still have much to do to place evidence-based programming at the forefront of humanitarian, development and peace-building work. We have to produce data that is rigorous and that is equitably measured, informed by the needs and the desires of the communities we serve. We also need to make that data accessible to those who are in the best position to analyze it and to use it to inform their work. And we need to provide that evidence to others, including policymakers in the countries where we work, being very inclusive and transparent about what we learn, so they can benefit.
As climate and other shocks become more frequent, severe and overlapping, there is an urgency to getting smarter faster when it comes to building resilience. We can only achieve this with abundant and accurate evidence.
Now, when it comes to practical application and work done on the ground in partner countries and within international development, the importance of resilience is extending beyond climate and food security circles to become a mainstream idea, which is exciting. In your opinion, what are some of the biggest opportunities with this shift?
Nathanial: I believe that unlocking private sector capital is one of the biggest opportunities in the mainstreaming of resilience. Currently only around 2 percent of private sector investments go into adaptation and resilience, but an increasing body of evidence shows that investing in resilience works and is crucial for reducing risk. Investing in resilience can foster new opportunities for livelihoods, promote gender equity, justice and fairness through locally-driven solutions, pre-empt potential conflicts, and minimize vulnerabilities. In our Innovative Finance for Resilience project, we work with coffee farmers in Uganda and small-holder farmers in Sudan to provide them with fairly priced loans, as well as change perception around the investment risk they represent. More and more people are awakening to the business case for investing in resilience and given the challenges ahead, having the private sector on board and supporting equitable resilience businesses that are linked to locally-led adaptation efforts will be a win-win. This includes working closely with regional banks as well as other investors and donors to show that entrepreneurs in developing countries are not a risky investment and that instead investing in their enterprises builds resilience, strengthens livelihoods, and fosters stability.
How do you envision the prioritization of local voices, local needs and local solutions in resilience interventions and initiatives in international development?
Dina: As you know, localization is a priority for all of USAID. In 2022, USAID provided []$1.6 billion directly to local partners](https://www.usaid.gov/news-information/press-releases/jun-12-2023-usaid-releases-localization-progress-report). We understand that only through locally-led action can we help to achieve sustainable development results. As part of that, by 2030, we aim to have 50 percent of our programming placing local communities in the lead – including in the area of evaluating the impact of our programs – which means local actors are helping us to set the terms regarding what kinds of information and impact is important and actively engaging in its development and use. A good example of how we're working with local partners with great results is Feed the Future Policy LINK, which works with local officials, community leaders, women, persons with disabilities and youth representatives in South Sudan to prioritize local needs by facilitating dialogues among these stakeholders to produce locally-owned action plans. The activity recently completed an assessment of their program which showed how such an approach can yield strong dividends.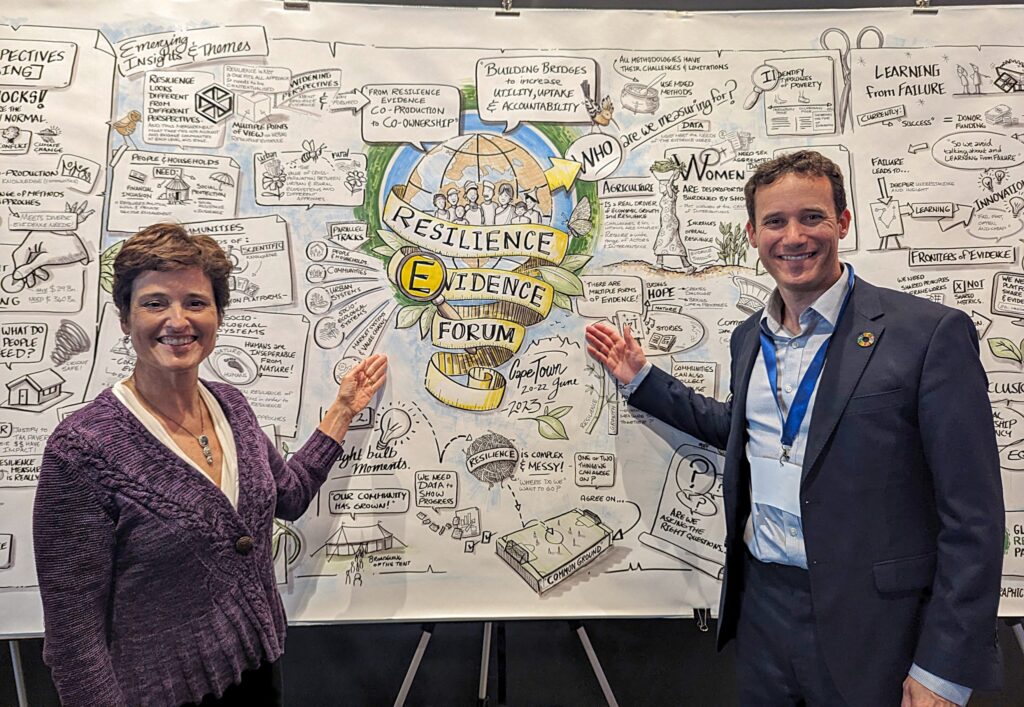 Nathanial: Currently there is a mismatch between the need for building resilience and the finance to help do so. What are the opportunities for the international development community as well as other sectors to get involved in supporting resilience building efforts?
Dina: We see USAID's and other development actors' primary role as being catalysts for change through our convening power and through our ability to leverage other's resources and influence the policy agenda. USAID has a variety of vehicles to catalyze private sector investment, including the recently launched Enterprises for Development, Growth and Empowerment (EDGE) Fund and "first loss" funds to incentivize hundreds of millions of dollars in commercial investments in small and medium enterprises that are the backbone of a resilient agriculture economy.
This gap must be urgently addressed if we are to scale adaptation solutions at the rate needed given climate projections and the disproportionate impacts they will have on more marginalized groups including smallholder producers. Feed the Future, in collaboration with the President's Emergency Plan for Adaptation and Resilience (PREPARE), is answering this call. Our FTF investments in some 40 countries around the world are helping millions of farmers adopt new climate smart practices and more climate resilient varieties of crops and animal products is a mainstay of our research agenda. We continue to prioritize support for improved regulations, policies and laws that create the enabling environment to scale climate smart solutions. In collaboration with the Green Climate Fund, USAID is actively supporting agricultural cooperatives to gain access to the fund as regionally- and nationally-led organizations that are closest to the needs of farmers. Through EDGE, we are supporting farmers to access crop index insurance, and to successfully make the transition to climate-smart agriculture. We're also supporting them to access carbon markets as an important way to diversify their income and support their livelihoods.
Knowing we can't do this alone, we're also asking companies with agricultural supply chains globally to step up. A great example comes from the PREPARE Call to Action that we are working on together with GRP. McCormick Spices is showing leadership by supporting farmers in their vanilla supply chain in Madagascar to adapt to climate impacts, as a matter of their business. We invite more companies that see climate impacts on their bottom line to join forces with us – either by committing to an Agriculture Innovation Mission for Climate (AIM4C) Innovation Sprints or to making change in their own operations through the PREPARE Call to Action. Our door is open.
This blog was initially posted on the Feed the Future website.