The Partnership will be involved in the following two sessions:
1. Water Resilient Food Systems under Climate Change
29 March, 13:45 – 14:45 GMT+4
Achieving transformations of water resilient food systems will require a compact between national and local government, communities and the private sector that bring together bundled solutions that integrate technology, data services, enhanced governance and policy.
Innovative resilient solutions and participatory approaches will facilitate climate action by considering regional, national, and local needs and priorities, by involving communities and private sectors in climate adaptation, and by making cities main catalysts of transformation.
This session will bring together policy makers, farmers, water professionals, entrepreneurs, researchers, and financiers from across water-food-energy systems who are tackling these challenges.
Organized by International Water Management Institute (IWMI); Alliance for Global Water Adaptation (AGWA); International Union for Conservation of Nature (IUCN); Global Resilience Partnership (GRP); FAO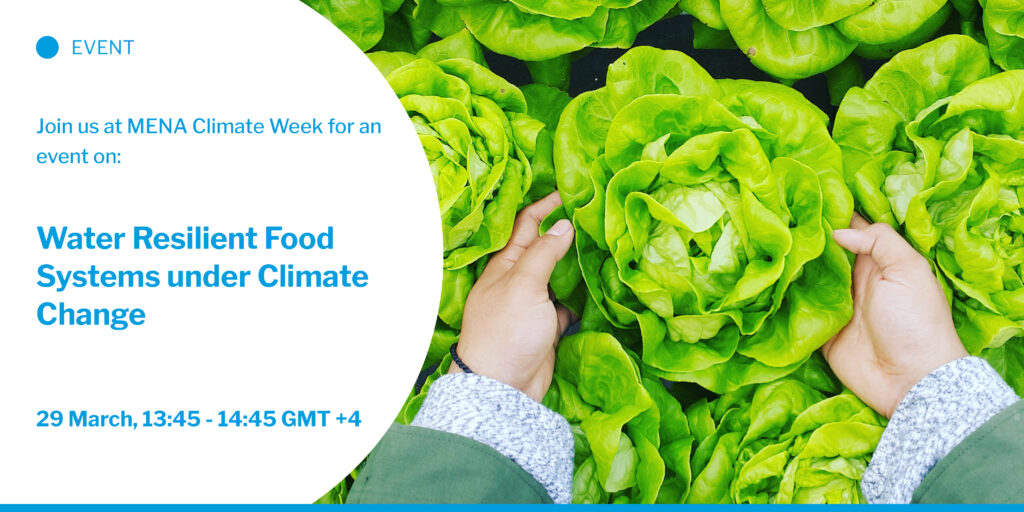 2. Tapping the Potential: Actions of Race to Resilience Partners in MENA region
30 March, 09:00 – 10:00 GMT+4
The Middle East and North Africa (MENA) region is particularly vulnerable to climate change. It is one of the world's most water-scarce and dry regions; with a high dependency on climate-sensitive agriculture, and a higher than average urbanization rate in flood-prone urban coastal zones.
Identifying effective climate resilience strategies and funding for their implementation and scaling is critical to maintaining the economies and livelihoods of the region's 570+ million people.
Join GRP and the High-Level Climate Champions Nigel Topping & Mahmoud Mohieldin at the first-ever MENA Climate Week to identify how we finance and mobilize climate resilience action in the Middle East and North Africa.
The featured image is taken in Dubai, UAE by Gopal Krishna.