A new Global Resilience Partnership (GRP) and Itad report distils and illuminates the latest evidence from across the breadth of the GRP to inform future resilience programming at a time when it is more important than ever.
Building resilience where it is needed the most
The world is increasingly unpredictable with more people than ever facing more severe and frequent shocks and stresses related to climate change, economic and trade uncertainties, geopolitical instability and potential conflict. There is a need to shift towards resilience-based approaches that allow vulnerable people and places to thrive in the face of surprise, uncertainty and change.
Resilience works
GRP has worked with partners to synthesize learnings from 22 GRP projects, 42 Partner programs, 16 Countries and 150 documents. There is good evidence from the GRP Innovation Challenges that projects have supported 5.7 million people to be more resilient to the threats they face. In addition, there is strong evidence based on robust methods that long term and established GRP partner programs have delivered resilience outcomes.
Informing future resilience programs
There is no single solution to building resilience. Instead, it is often a combination or package of interventions from which resilient outcomes emerge. However, the evidence gathered points to a common set of five intervention areas and five programming components used by the programs reviewed to leverage resilience results. This leads to important recommendations to take into account when planning or implementing resilience programs to add value and amplify collective impact.
The figure below summarizes the most impactful intervention areas and the programming components to consider.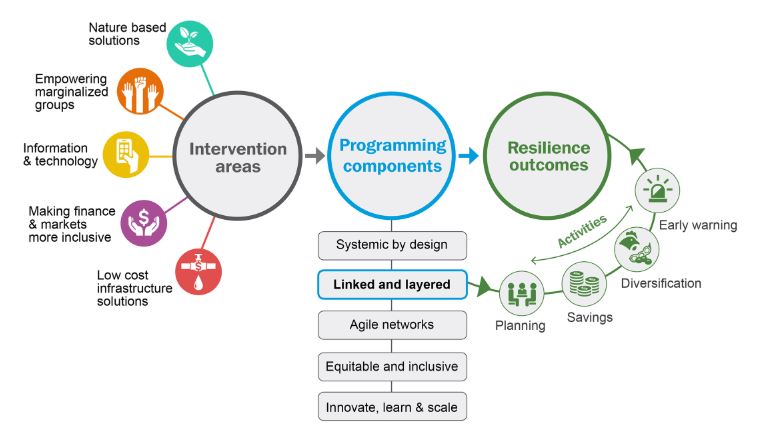 Visit the Resilience Insights microsite
Want to know more? Our microsite is an opportunity to take an interactive journey through the Resilience Insights Report, discovering lessons, results and actions from the GRP. You can also download the full report and associated knowledge products.
Photo Credit @ Rene Arnold, ResilNam Project