Flood Resilience Portal
The Flood Resilience Portals are online spaces for sharing practical knowledge (including 'solutions') about why and how to build community flood resilience. They bring together all of the knowledge generated and exchanged through the Zurich Flood Resilience Alliance and beyond.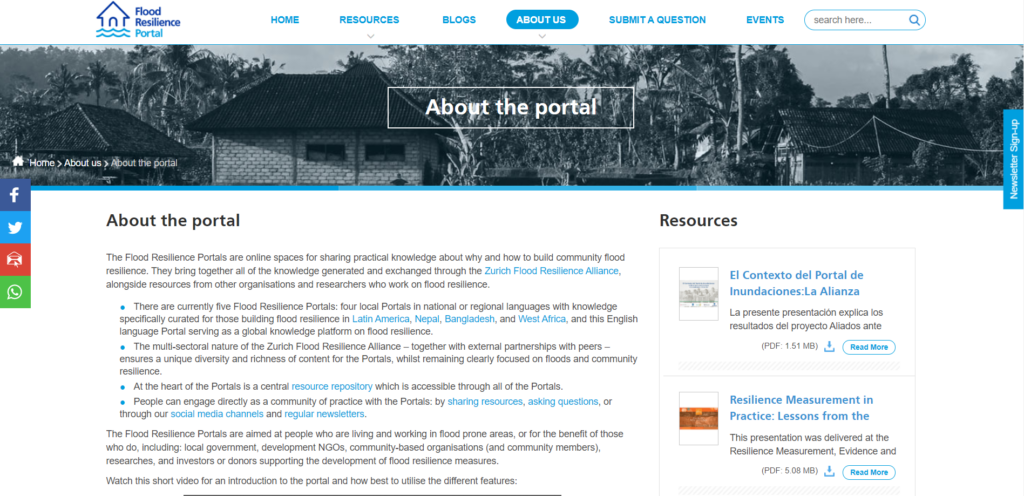 The Flood Resilience Portals are aimed at people who are living and working in flood prone areas, or for the benefit of those who do, including: local government, development NGOs, community-based organisations (and community members), researches, and investors or donors supporting the development of flood resilience measures.
There are currently three Portals: two local ones, in Spanish and Nepali, with direct links to in-country or regionally relevant resources, and an English language one serving as a global knowledge platform on flood resilience.
The multi-sectoral nature of the Zurich Flood Resilience Alliance (together with external partnerships with peers) ensures a unique diversity and richness of content for the Portals, whilst remaining clearly focused on floods.
At the heart of the Portals is a central resource repository which is accessible through all of the Portals.
People can engage directly as a community of practice with the Portals: by uploading resources, asking questions, or through social media channels and regular newsletters.