We live in a world with multiple, nested challenges, with conflicts, climate change, food crises, pandemics and economic uncertainty affecting us in myriad ways. Creative expressions like murals can visually represent these challenges communities face and the resilience strategies they employ to navigate through change. Performing arts can communicate stories of resilience, evoking emotions and inspiring action. Sharing recipes and showcasing indigenous, climate-resilient meals and ingredients not only highlights the importance of local knowledge but also fosters a deeper connection between culture and climate resilience. Citizen science engages communities in data collection, making resilience evidence more accessible and participatory, while filling crucial data gaps in establishing resilience evidence. Creative expression and art has the power to convey complex ideas and insights into accessible and compelling forms.
Last year, we launched the "Knowledge into Use" awards to uncover creative and innovative ways of showcasing and using resilience knowledge. This year, we are excited to announce the second round of the awards! The "Knowledge into Use" awards provide a unique opportunity to ignite resilience, celebrate creativity, and embrace innovation in engaging with the latest resilience evidence.
Nabeel Peterson, a former Knowledge into Use award winner, partnered with academics at the University of Cape Town to capture stories of community-based, climate resilience activities through comics and murals. These pieces of art aim to raise the awareness among the university students and lecturers on the communities' water vulnerability and resilience. This in turn, aims to inspire students and lecturers to incorporate new ways of doing research, like art and storytelling, that include the communities' stories and have local impact.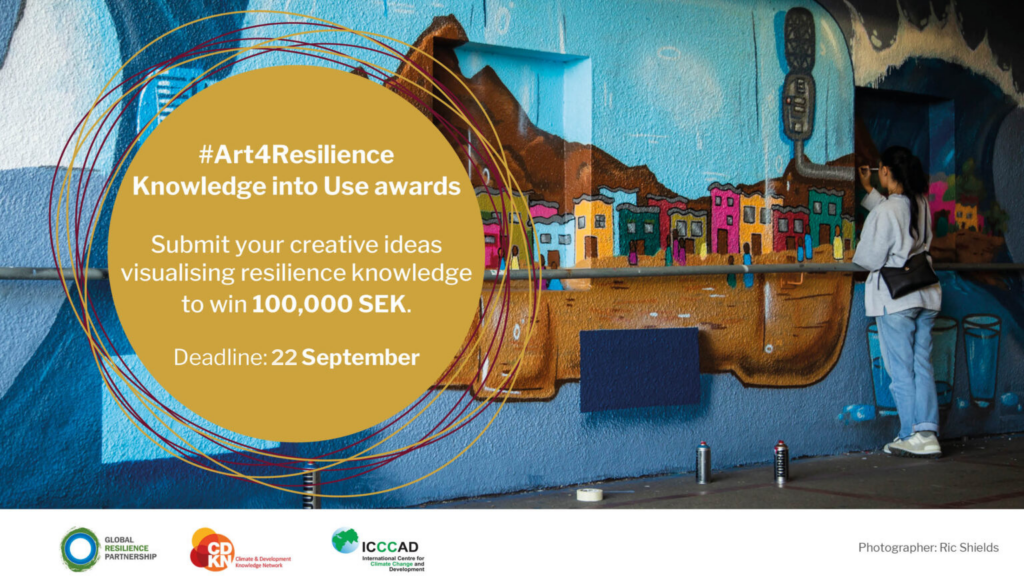 We call upon individuals and organisations to tap into their artistic potential, merge it with sound evidence, and identify or document innovative approaches to resilience evidence. We are looking for art and creative works to visualise knowledge and evidence. Prizes of 100,000 Swedish Krona will be awarded to the winners across three categories: performing arts (theatre, music, improv, music and folk performances, etc.), visualising evidence (art installations, graphics, animations, chronicling recipes and cuisines that are climate resilient, etc.), and participatory approaches connecting arts and science (citizen science, participatory arts, gamification, etc.).
Join us in this journey of exploration and inspiration, and be a catalyst for change in shaping a resilient tomorrow.
Please submit the following:
A written concept note to describe the evidence behind the art and the art approach/method you will use. The concept note/ idea should be a 250-word brief on the evidence generated or being documented on enhancing resilience. For instance, mangroves have the potential to act as resilient natural infrastructure to manage storm surges and support community livelihoods. If this knowledge is depicted through an entertaining comic strip or a game to spot existing mangrove patches and their species, then those could be contenders for the award
Pictures or videos of existing prototypes, if any, are welcome.
What does a good concept note look like?
We expect the written concept note to be concise and backed with relevant literature (both peer-reviewed and/or grey literature is welcome) on the substantive elements of the evidence being documented/ identified. The first paragraph can introduce the problem and the evidence. The next paragraph can introduce the method or the art to put that knowledge or evidence into use. In the final paragraph, tell us about the team – who are the research experts, artists and innovators in the team, and what sparked their journey as collaborators.
Eligibility criteria
The entries should be from registered organisations only.
If individual artists, science communicators or knowledge brokers want to apply, they can partner with registered organisations. The grant contract can only be awarded to a registered organisation.
Organisations and candidates based in the Global South and youth-led organisations are strongly encouraged to apply.
Countries ineligible to apply are: Russia, Belarus, Cuba, Afghanistan, Somalia, Syria, Iran and North Korea.
Guidelines
The concept note/idea should be brief and based on sound evidence, i.e. it is necessary to cite evidence in the form of reports or research papers to build a case for the resilience of knowledge put to use;
The funding award should be used for new pieces of artwork that builds on results from existing research.
The medium of expression can be (but not be limited to) games, comics or graphic arts, performing arts, etc;
Harmonising science with elements of justice, equity and indigenous and local knowledge expressed creatively using the evidence that exists on these themes is highly encouraged;
The winners will be selected based on creativity in expression and sound evidence base of knowledge as expressed in the application;
The grants aim to enable the teams to implement or express the idea creatively in time for a potential exhibition in COP28 or any other suitable event like Gobeshona 2024.
Expected deliverables
1 art installation or a diverse range of creative outputs, such as well-produced performance videos, visual graphics, cartoons, recipes, and citizen science initiatives like murals, showcasing the project's vision and concept
Process documentation (script + motivation of performance art, description of participatory approaches, etc)
At least 2 social media posts (high resolution photos, short videos, etc)
At least 2 Resilience Resources (either story or solution) on the Resilience Platform
Submission and deadlines:
Submit the concept note and the creative piece that adheres to the instructions above in this google form by 22 September 2023.
What is in it for the winners?
Receive a grant of 100,000 Swedish Krona to develop their creative resilience project;
Exhibit their creative art work during COP28 and/or Gobeshona 2024;
Become a part of a growing community of practice on resilience evidence, called the Resilience Evidence Coalition
Get invited to participate in GRP and partner events like CBA, Gobeshona, etc;
Get support from the GRP communications team to write stories on the progress made in the project and publish them on the Resilience Platform and GRP website;
Coordinate with the GRP communications team to create social media products for outreach of their organisation and products.
TIMELINE The contest will begin in September 2023 and the final outputs should be ready by December 2023.