Grassroots organisations are critical to our response to this global crisis.
The Covid-19 pandemic has rapidly developed into one of the largest global disruptions of modern times. It has put massive pressures on health, social, and economic systems. The impacts of the pandemic will be felt over the coming months and potentially years, testing our global and local resilience. Now it is more important than ever to build community resilience to foster support for each other in the face of this crisis.
The pandemic has demonstrated how interconnected we all are as a global community. It has shown how a systemic risk that emerges in one place can spread rapidly across the world. Deon Nel, CEO of the Global Resilience Partnership (GRP), says, "Our global connectedness is both a systemic risk as well as our greatest strength, and now more than ever we need to channel this strength to build resilience through global solidarity in the face of Covid-19." Global risks are an inherent consequence of the hyper-connected world we live in today. They highlight that the resilience of individuals and communities is tightly coupled to global dynamics such as emerging disease, climate change, finance flows and trade. Even though these risks are inherent, it does not mean that we should revert to nationalistic strategies. Albert Norström, a researcher at the Stockholm Resilience Centre, adds, "Building up our borders and walls is not a resilience strategy, but working together across boundaries is, and what we should work towards at this time."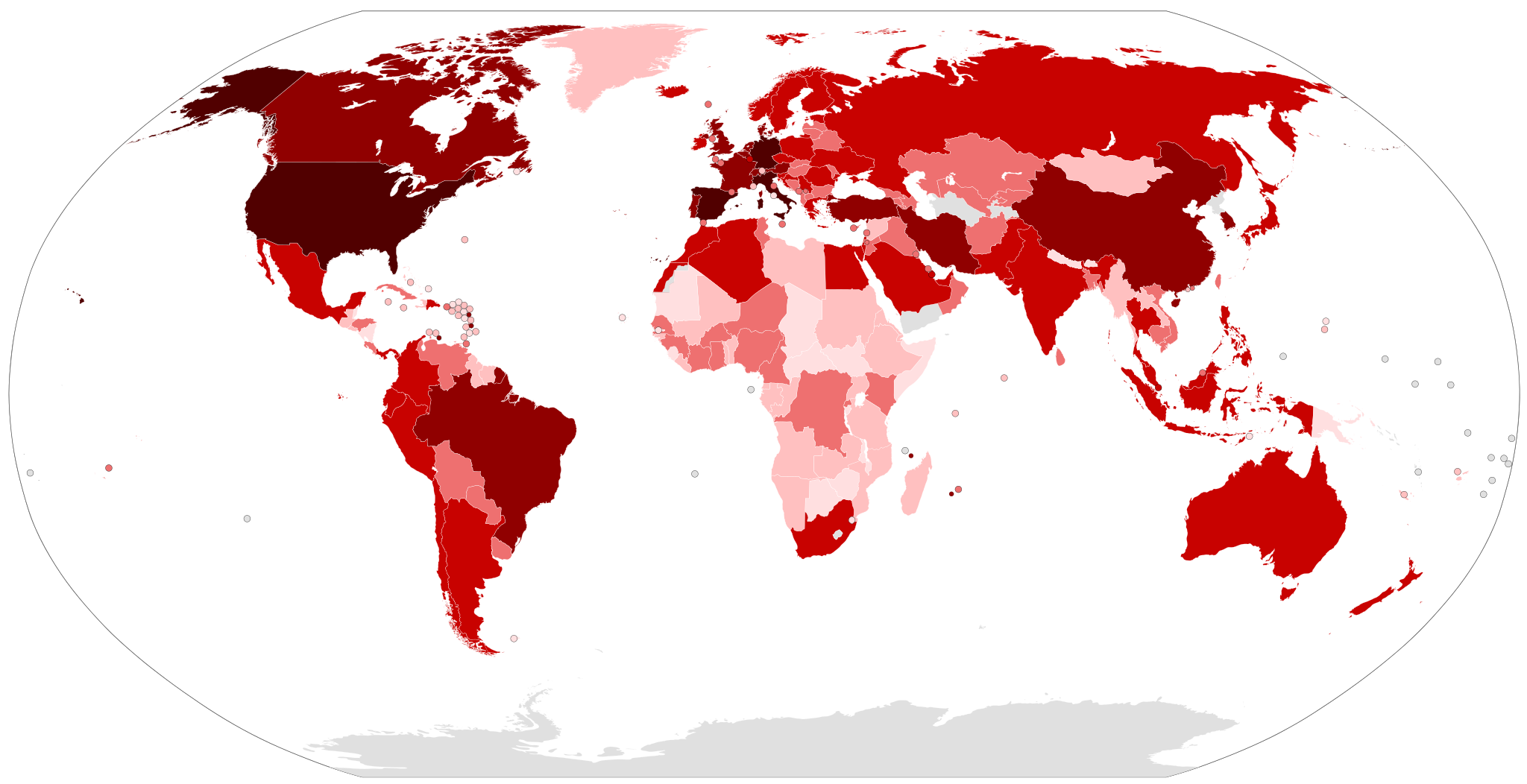 Map of COVID-19 infected countries and territories in the world, updated 4 April 2020.
While Covid-19 has effected all of us in some way or another, it does not affect us equally. Both the direct health impacts and the indirect impacts of economic disruption are likely to affect poor and vulnerable communities more heavily. Whilst the spread to date has mostly been in middle and high income countries, the pandemic is rapidly taking a foothold in lower income countries.
Lockdowns being implemented in higher income countries are challenging to implement in dense living conditions in urban slums. Older, more vulnerable people often live in close quarters with younger, more mobile people, placing them at high risk. Most slums also lack adequate sanitation facilities, which are an essential precursor to slowing the spread.
The effects of economic disruptions will have repercussions on workers in the production and informal sector, who are reliant on daily wages. Mahila Housing Trust has already seen income drop significantly amongst the communities they work with in South Asia. Textile workers, street vendors and construction workers have already lost a significant amount of income with many of them not receiving any work, and thus no pay either. This highlights a lack of safety nets within the informal sector. These impacts should also be viewed in the context of the longer term challenges of a potential global economic recession.
Self-organising community resilience and the strength of grassroots social networks is proving to be critical in helping communities navigate this pandemic and its consequent social and economic impacts. Atma Connect works to build community resilience in the face of disasters with their AtmaGo app for neighbours helping neighbours. In Indonesia and Puerto Rico, the app has been used to share critical information about Covid-19 and create localized mutual support. The information has been viewed over 300,000 times. Meena Palaniappan, Founder and CEO of Atma Connect says "In the face of the Covid-19 crisis, AtmaGo is helping communities by sharing trusted information on how to slow the spread of the virus, save lives, and help one another."
Mahila Housing Trust (MHT) is working around the clock to ensure that their community is informed about the crisis, can act accordingly and has access to the necessary tools. Bijal Brahmbhatt, Director and Founder of MHT says, "This crisis will affect all the communities that we work with, not only now, but in the long-term as well. It is our responsibility to do as much as we possibly can to inform, educate, and support them during this time to give them the best hope of slowing and managing the spread of the virus."
GRP is working with its partners to accelerate peer-to-peer learning about what community resilience tactics are working in the face of this global disruption. Covid-19 is impacting all of us, but by connecting remotely and sharing insights we can support each other in the face of this crisis. If you would like to learn more and share your insights, contact GRP: info@globalresiliencepartnership.org.
Featured image credit @ Emmanuel Dyan, via Wikimedia commons