This is a story from my lens as a Disaster Risk Reduction Young Leaders Fellow (DRR Fellow), where I will take you on a journey through my experiences of being assigned to Siraha Municipality in Nepal, as one of the seven fellows of the second cohort. The fellowship by Youth Innovation Lab (YI-Lab) mobilizes trained young poeple to transfer the technical capacity of using the Building Information Platform Against Disaster (Bipad) portal to the local government. This story is a blend of my professional experiences and personal emotions that emerged during the process of localizing the Bipad portal.
Journey to Siraha Municipality
April 29, 2021. It was the first day of the second phase of lockdown as the Delta variant of the COVID-19 virus had taken over Kathmandu. All the offices were shut down, and people were locked inside their homes. However, I was leaving; leaving my home to go to work at an unfamiliar place for 5 months. With a double mask on my face, face shield on my forehead, sanitizer in my pocket, and lots of fear in my heart, I was flying to Janakpur, South East of Kathmandu. From there, I had to take a 3-hour public bus to Siraha Municipality- my destination.
Had it been under usual circumstances, this day wouldn't need such a detailed narration. But, it was the peak of COVID-19, and this "privileged city girl" was moving out of her home for the first time to "Terai".
If you have heard of Nepal, you must have heard about its mountains, hills, rivers, and culture. But, Terai, the plains of Nepal, the country's granary, is rarely described. Moreover, deep-rooted racism in people tends to shun the dark-skinned natives of the Terai. The high temperatures of plains ranges from 37-40C, and the lack of facilities and opportunities make Terai a place people usually don't choose to move to.
So, my taking up the DRR Young Leaders Fellowship and living alone in the Siraha Municipality was a surprise for me, my family, and everyone around me. But I was confident that this was my calling.
As the bus took me closer to Siraha, I started witnessing more chaos. The people in the crowded bus didn't understand social distancing and were smirking at my extra protection. Dragging two large suitcases and carrying mixed feelings of fear and independence, I finally found the location of my home for the next five months.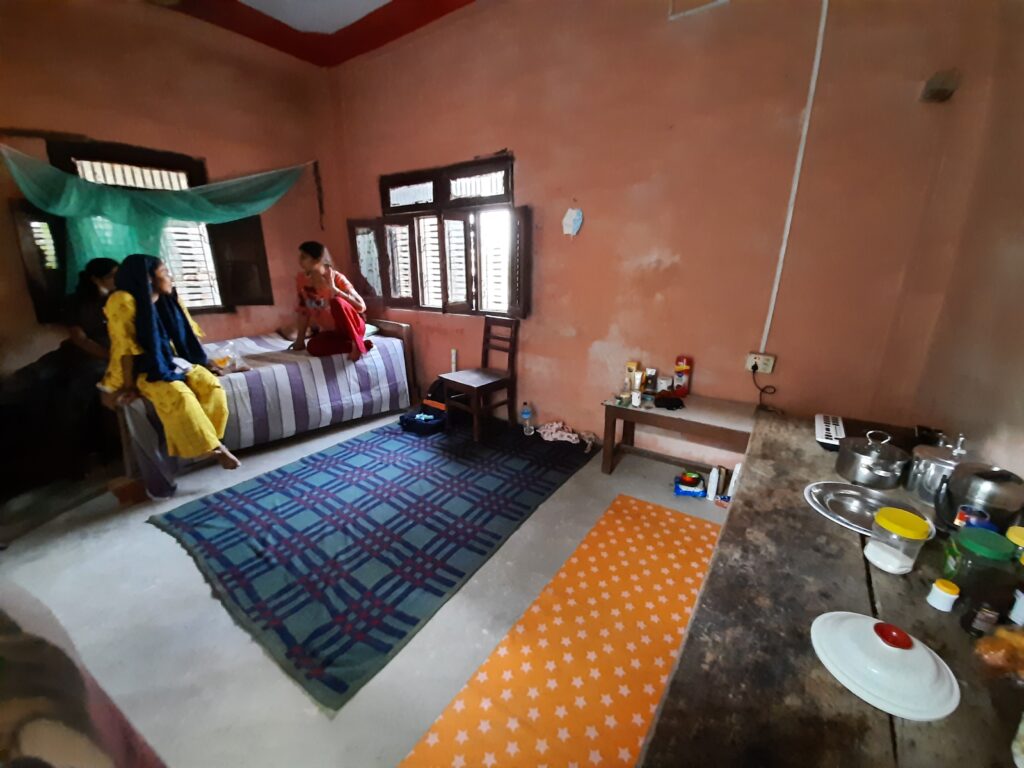 On the fifth day of my stay at Siraha, the government announced that all domestic flights would be stopped. On getting the news, my panic level rose by 100% and my thought process went haywire. I thought to myself, "What if I get COVID? Who will take care of me? What if I die here?" I cried, called the YI-Lab team, told them that I would be returning back, bought a flight ticket, and requested the municipality to arrange a vehicle for me. But fortunately enough, the vehicle could not be arranged. I called my father to get some help and consolation. But to my surprise, he scolded me. With a firm voice, he asked me to stay there and not return home. Though surprised and taken aback, that call gave me a sudden burst of strength. At that moment, I decided to stay at Siraha, work and contribute to localizing the disaster information management portal with my full dedication. The resilience that came to me after all the drama was worth it.
The Field Visits
Working at a local government office was nothing like working in the air-conditioned rooms of Kathmandu. Most of the time, lizards, mosquitoes, buffaloes, and snakes were my colleagues. People rarely came to the office, and meeting my supervisor was a herculean task.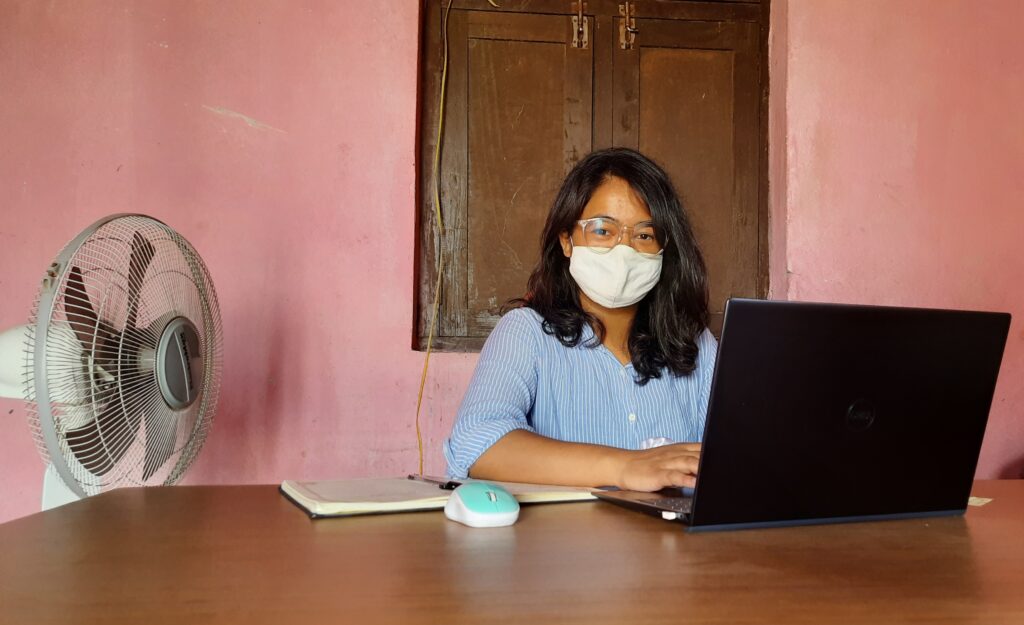 Forecasting our workflow, YI-Lab had strategically arranged a number of trainings in the first month, one of which was the QGIS training. So, coordinating with the health department, I started making COVID-19 heat maps on QGIS and circulated them weekly. The municipality now had ward-level COVID-19 updates to plan for quarantines and hospitals. The data visualizations helped me realize that Siraha was a much safer space than Kathmandu. The type of resilience this data gave me and the municipality was that of strength.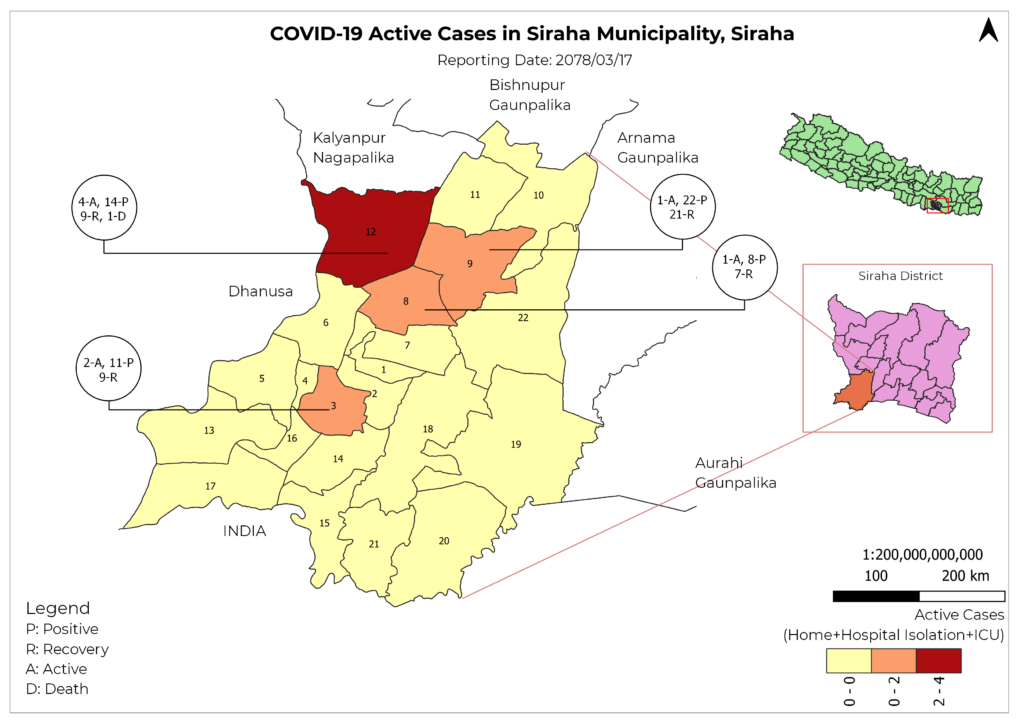 My major task at the municipality was to localize the Bipad portal. For this, I had to collect data from all the major landmarks within the municipality, significant from a disaster management point of view. So, in one month's time, I visited more than 500 institutions, hospitals, religious areas, open spaces, etc., collecting disaster-related data.
The municipality had assigned Mr. Ram Adhin Yadav, an office assistant, to take me to the field. Visiting every nook and corner of the municipality riding as a pillion on his motorcycle, I got to experience Terai as I had never experienced it before. Driving through the lush green fields of Terai, I started appreciating the real treasures hidden there. Meeting people, enjoying their homegrown food, listening to their stories, being a part of the village life, and visiting temples, mosques, and churches enriched my experience in a way I had never imagined. Going from one point to another, in the scorching heat and the heavy downpour, I understood why Kathmandu is more developed. I witnessed the harshness of the climate and the impact a few degree increase can make.
On one hand, my learning was expanding, and on the other, my presence was making an impact too. In a place where women are limited to only household work, I was setting an example that women have no limits to their abilities. I realized I could plant seeds of thought in people with just a few words. "Ram Adhin Dai (brother), you should send all your daughters to college, else I am going to come and scold you very badly!" I joked around.
Monsoon Rain and the Power of Data
Monsoon in Nepal kicks in during June-July. So, if you ask any Kathmanduite, "What does rain signify to you?", I am sure the answers you will get would be "the jhol mo:mo (Nepali soup dumpling) weather", or "romantic weather", or "I sit by the window and watch the downpour." Trust me, I too was the jhol mo:mo kind. But, this time around, living in a flood-prone zone, my mind could only dwell upon the harshness of the monsoon. The only thing that came to my mind during the downpour was that the community I visited just last week could be swept away any time now; the army and the police, who were practicing the flood rescue drill would actually be in the field saving real flood victims; and infrastructure which took years to build could collapse in no time. While I felt helpless not being able to do anything at that moment, I also could feel a sense of hope that can come with data, digitization, and disaster information management systems.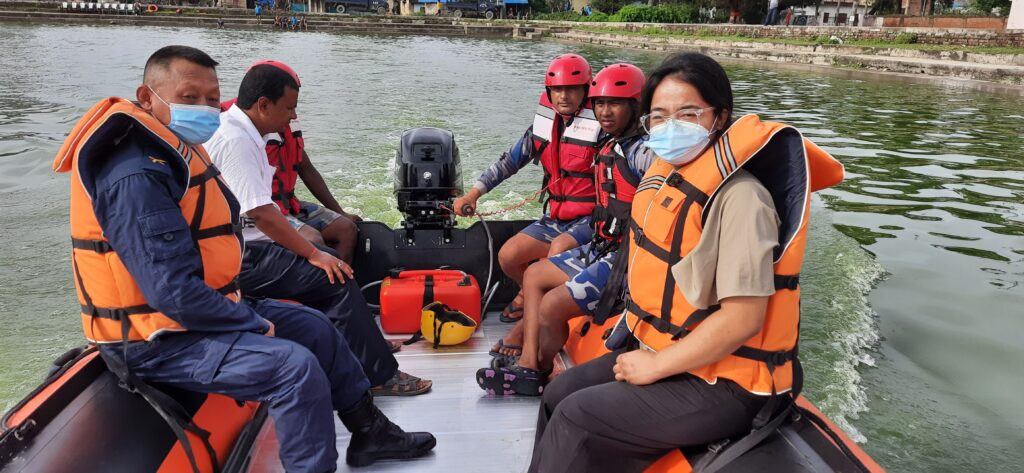 So, to contribute the best I can, I used the field data to extract useful information such as an emergency contact list and an inventory of disaster response resources. Using my QGIS skills, I also created a disaster risk map for flood, inundation, and snakebite. All of this information was used to produce the "Siraha Municipality Monsoon Preparedness Plan."
After compiling the field visit data, I prepared a 125-page printed dataset with 562 data points. Handing over this data report and the monsoon preparedness plan to the municipality, I felt hopeful this data and information would come in handy at times of need. But my heart filled with utmost happiness when the municipality printed the disaster-risk maps and hung them in the office. The municipality could now easily harness the knowledge brought by access to information.
WASH Training and the students
After the end of my 5-month fellowship, the municipality requested me to stay longer under their funding. So, I stayed for three extra months with the major objective of conducting WASH-related training for students at 20+ public schools. This extension was another roller-coaster ride in terms of learning and experience.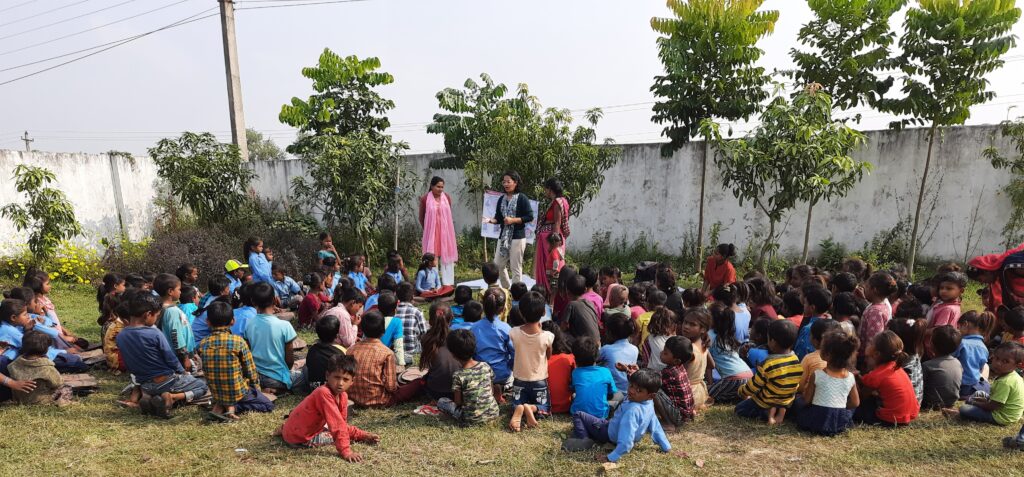 While the lush green fields of Siraha were breathtaking to look at, stepping on the field took our breaths away too, but this time with the smell of feces. I remember the DRR focal person telling me, "The number of people openly defecating was very high 10 years ago. We ran campaigns and punished people who defecated openly. The number has decreased significantly since. But, it is a fact that people openly defecate even now." So, when I was tasked with conducting the WASH training, I knew I had to make it impactful because my audience was the future of Siraha.
So, I bought some golden glitters and prepared an act to showcase how the germs (glitters) from feces can spread from one person to another if proper sanitation and hygiene are not maintained. The students thoroughly enjoyed acting as a man who defecated openly and as a housefly who spread the glitters (germs) to the whole class. We then danced the 6-handwashing steps to a popular Nepali song. So, I was simply enjoying singing, dancing, and acting with the students. Just then, a teacher came to me and said, "Ma'am, you're collecting good karma in your account. You might not be aware now, but the situation in this village is very saddening. You coming here as an outsider, mingling with the students, and giving this training can have a lasting impact on these children's minds. This can change the WASH situation in the whole community." Only at that moment, I truly felt the weight of the impact that can be brought by the enjoyment I was experiencing. Only then, I reflected on the resilience this game can bring in stopping the spread of communicable diseases during a disaster.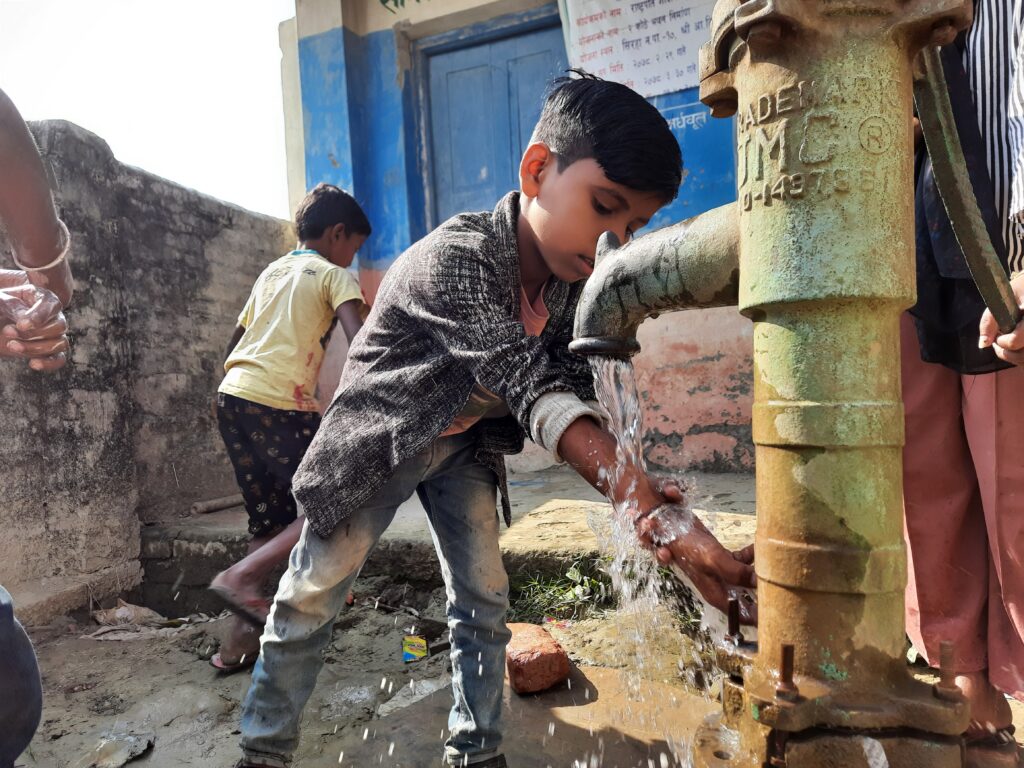 Sushma and her Enterprise
The municipality had organized this WASH training in collaboration with a local NGO called Sabal Nepal. While organizing each school visit, I bonded well with Sushma Shah, one of the field coordinators there. She invited me for lunch at her home one weekend. She was preparing a presentation for a training on menstruation, and since I was there, she casually asked for my help. We worked on her presentation together while we talked about our lives.
A few months later, while scrolling Facebook, I came across a Climate Smart Entrepreneurship opportunity dedicated to young people in Terai. I shared the link with Sushma and requested her to share it in her network. Only later did I know that she herself had applied and even got selected among the 6 successful enterprises to be funded. Her business plan of producing reusable cotton pads won NRs. 1,25,000 (approx. $900), and now, she has even registered her business and is running the business with her mother. I could not believe that just a simple send button could contribute to women's empowerment and foster financial independence.
The Story Doesn't End Here
My journey as a DRR Young Leaders Fellow was life-changing for me. But, what you have read until now is just my story, the story of one DRR fellow at one municipality. YI-Lab has conducted the fellowship in over 50 municipalities across all seven provinces of Nepal. Reflecting on my journey, I can only imagine the stories of each individual fellow and the impact all the fellows have created across Nepal.
The power of youth is undeniable, and the empowerment that we get through these opportunities certainly has a long-term impact on creating climate leaders for tomorrow. Actively engaging young people to implement climate-resilient solutions can, in turn, produce a generation of individuals with a strong mindset to contribute to the community and the environment, while developing technical capabilities. I can say this with conviction because I have been one of those youths, and this experience indeed has been a turning point in my life.
After all, the lives we touch, the people we inspire, and the change we make, can create a compounding impact.