A better future for fashion is one in which the production system is designed with circularity and sustainability in mind from the beginning. And not one that burdens Global South countries with the consequences of over-consumption and over-production. However, there are innovative efforts being practiced by individuals, communities, and brands to repurpose what the fashion industry habitually discards so quickly, transforming them into beautiful stories of clothing and accessories that can be cherished for longer.
Craftsmanship is described as the quality of design and work shown in something made by hand. We live in a world where we're convinced that buying and having more makes one cool and relevant. A mindset shift starts with the way we relate to our clothes, it's possible to enjoy fashion and still care about people and the planet. This is a revolutionary clothing story of everyday people choosing to be innovative by making use of what already exists. Whether these resources already reside in our wardrobes or are patiently awaiting discovery and appreciation in second-hand markets, they possess the potential to be cherished as they rightfully deserve.
The fashion industry has an over-production and over-consumption problem, it is fuelled by a production system that is characterised by cheap synthetic clothing. These items often have terrible quality and will have to be discarded as soon as they're bought, that is if they even get sold. And of course, those that don't sell are either sent to places like the Atacama Desert to be burned in a landfill, or to Global South countries like Ghana and Kenya as second-hand clothes. The clothing that ends up in these countries are not all donated items, but also new ones from the brands themselves that have never been used.
A clothing practice of mindfulness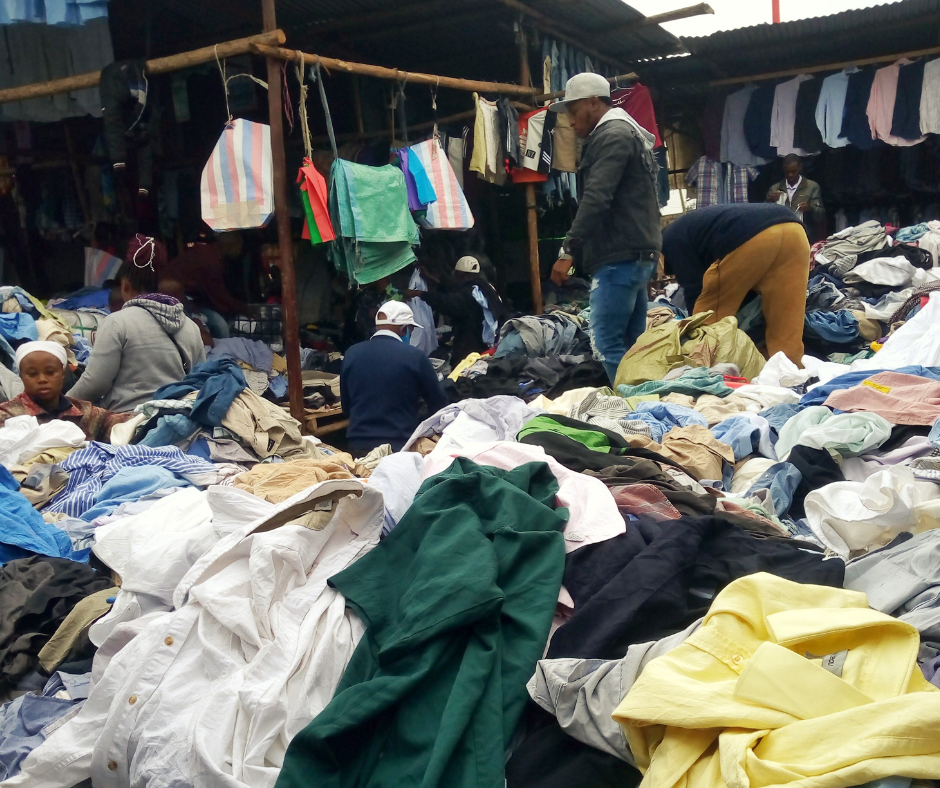 Chemitei Janet
When you walk around Gikomba market, East Africa's largest secondhand market, you come across all sorts of clothing. In 2021, over 900 million items were sent to Kenya from around the world. These then got distributed across the country and even to neighbouring countries like Uganda and Tanzania. As I walk through and have a feel of the market, one thing is clear; these clothes were not made to fit us. I have always enjoyed shopping secondhand. I have fond memories of thrifting while in high school with my sisters and friends.
When we'd close for the holidays in high school, my friend Jerop and I would pass through our hometown market and get ourselves dresses and even bags sometimes. We had so much fun thrifting and styling these clothes together. We would also share and gift each other clothes if the items we purchased weren't our style or they didn't fit anymore. We still do this today. Back then, around 2012, we didn't know our practices were slow and sustainable because we chose to buy second-hand, swap, and rent, instead of rushing to buy new clothes.
When I was little, my parents taught me how to sew buttons and repair torn clothes, a culture I still carry on. I was also raised by my aunts and along with my mother who taught me how to crochet and even knit. Growing up around this circle of mindfulness, whether out of necessity or values, made me cherish my clothes and practice showing them love and care.
I make my own clothes
Toni is an upcycler from Johannesburg, South Africa, and makes her own clothes. "I've always been interested in sewing from a young age," said Toni. "I was in a club in primary school that taught needlework and we'd make dolls and even clothes that we'd put the dolls in. I asked my parents for a sewing machine when I was about ten or 11 but I got a machine way later when I was in high school."
Through her upcycling brand Totostry, whose name is a combination of her nickname, Toto, and the word 'artistry', she upcycles clothes from her own and her family's wardrobe. She makes clothes from scratch using gifted scraps and fabrics and also mends clothes for herself and anyone else who needs it. "Clothes are about your personal style and what you choose to identify as. It's important to buy clothes that you are invested in, that are versatile and that you can wear for a long time because of the great quality," said Toni.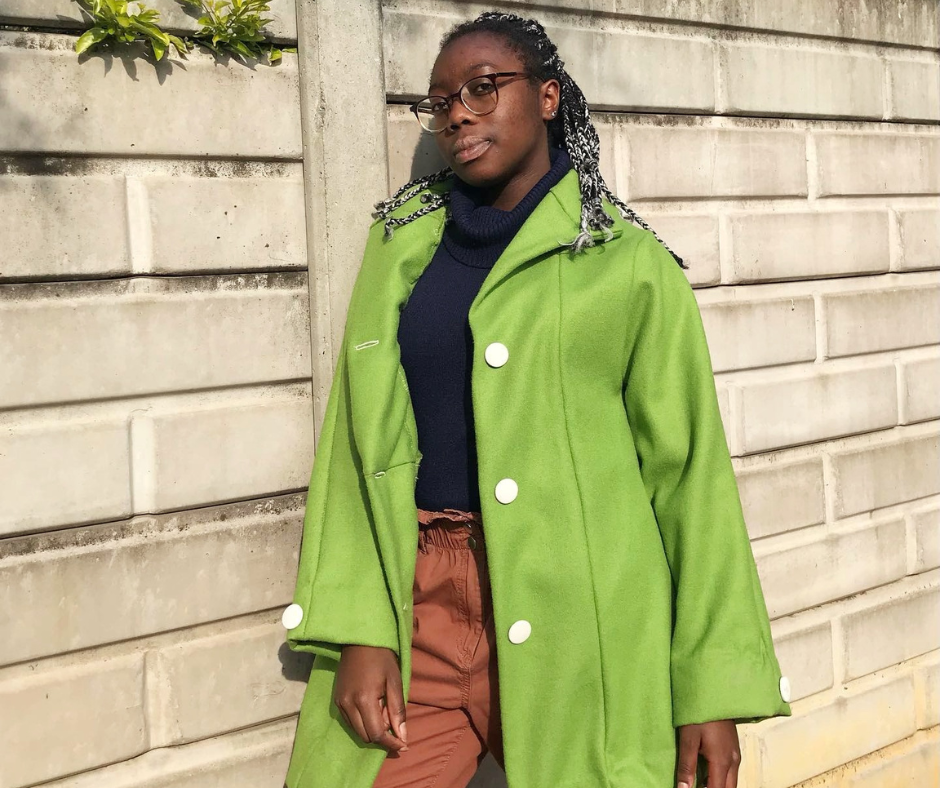 Totostry
"In the beginning, my dad didn't want me to get a machine because he said it was an old person's thing to do, it wasn't what the youth were doing. But eventually, he was like this is very cool, and it's nice that you have a business now. They are happy with me sewing and supporting myself through it."
Toni is an engineering student who builds community resilience through the fashion industry, an industry that encourages excessive consumption. She makes and repairs her own clothes and helps others do the same. This clothing practice is important because the clothes are actually made to fit and therefore make use of excess fabrics that would otherwise end up in a landfill or waterways. It also means less shopping for new clothes that are only fuelled by trends and a desire to want more because the fast fashion industry pushes for an insatiable desire to consume.
Totostry
Toni shares her love for clothing on Instagram and even organises clothing swaps with her community on campus, and uses these opportunities to have conversations about sustainability.
"It's important to be aware of what you already have," she said. "Have a look in your wardrobe and pick what you wear and what you don't. If you can't really wear some of the clothes, they can either be upcycled to fit into your style more or donated. And that would make you think more the next time you want to buy something if you really need it."
"Amongst my friends, we organise days to go to different areas to thrift, and we love upcycling clothes together as well," said Toni. Sometimes a revolutionary act is sharing your passion with your friends,and this creates a positive influence.
Value in rummage
Chemitei Janet
"When Rummage Studio was first operational in 2013, it was mostly due to the fact that you would get really good quality things from Gikomba market. My brother Mohammed would sell these to his friends. At that time it was unheard of to use anything other than leather and canvas to make bags or accessories," said Khalid of Rummage Studio in downtown Nairobi.
It was mostly out of necessity to differentiate himself from what the market was at that time. "We rummage through these piles of clothing, we wanted to own that part of the process. You'd rummage through trash which technically these clothes are but I wouldn't call it that yet eventually it could be trash and thrown away," he explained.
"We realised that the materials that were mostly used in our process were things that weren't as fast-moving at all. Vendors would often keep clothes that were torn and oversized. In that sense, we were making use of what would eventually end up in a landfill." This mindful approach to clothing that would otherwise be wasted away in landfills is proof that what is already here with us can change the narrative of what the fashion industry is now. Showing the big brands that you don't need new virgin materials to create intentional and incredible pieces that are valued, and with great craftsmanship too. "One thing we've been blessed with is a consistent circle of friends who have created inputs that are invaluable to the brand," said Khalid with fondness.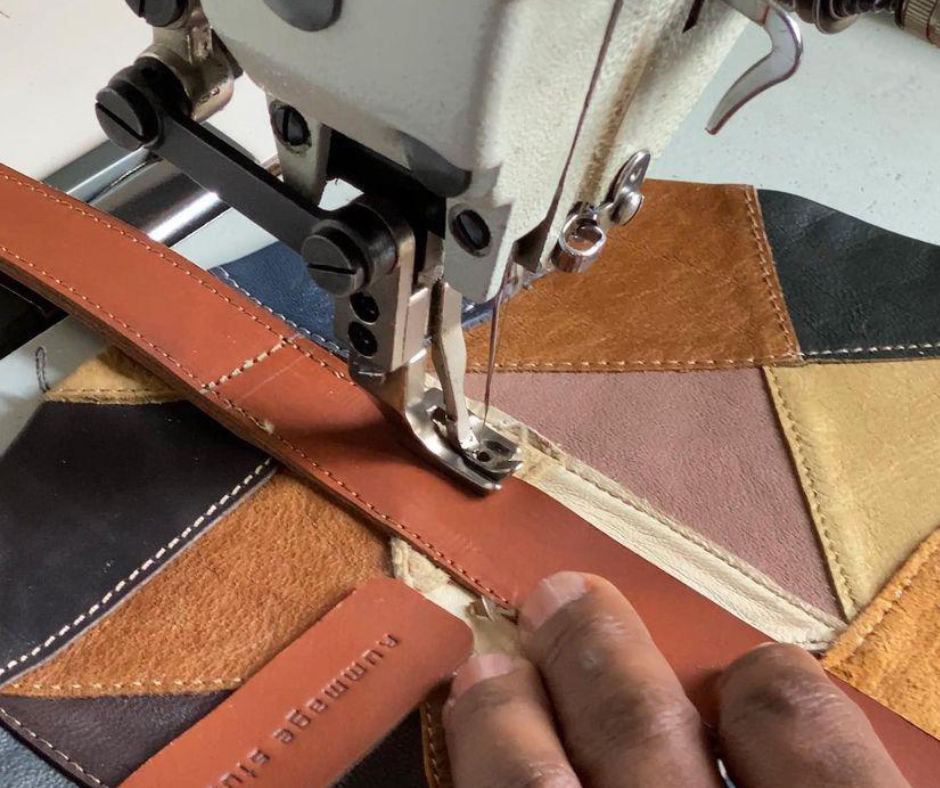 Khalid from Rummage studios
Rummage Studio is inspired by their identity as Kenyans, and by the market and culture of Nairobi city. "The market is the sustainability side of things, thrifting is how we dress. Most Kenyans trace their clothing to thrifting and not necessarily Gikomba but it is the source of most of what you'll find elsewhere."
"Gikomba market is chaotic but once you start getting used to it you realise that there is an organisation to it," said Khalid "I feel like craftsmanship isn't as respected or compensated the way it should be. We don't truly value these people and the skill, which takes years of dedication. Our story is to make people see the importance in someone being able to create something out of completely nothing," he continued.
Let's be revolutionary together!
Young people are innovative and resilient. They are leading the way in transforming clothing practices, giving communities and the planet a chance to take a breath and focus on thriving, rather than constantly being put down by the pressures of over-production and over-consumption.
My passion for telling clothing stories stems from when I was given the room to explore and express myself through clothes. Just like Toni and Khalid, having a supportive network of people who are close to you greatly contributes to cultivating a resilient spirit and reminds you of your purpose in that particular sphere.
Sometimes advocating for better systems means doing your own little thing that gives you joy- and inspires other people to want to pick from that tree that inspires best practices. There are better options when it comes to clothing, and while not everyone can make or repair clothes on their own, there are people, companies, and brands that are dedicated to doing just that by embracing a slower process of clothing production. Fashion is not what it used to be anymore, moving forward means we need a mindset shift through the entire supply chain.
Find your tribe and let's consume better together.