To create a world that benefits both people and the planet, it is critical to have a safe space to test and scale bold innovative ideas. Innovation is a cornerstone of GRP's work, and within this area, GRP's Incubator provides this safe space.
To date, the GRP Incubator has helped support over 7 million people and 1100 organizations to become more resilient to shocks and stresses. Jesper Hornberg, Lead of Innovation and Scaling at GRP, heads up the Incubator work. The incubator is a set of processes developed based on cutting edge business principles paired with people who have grounded experience catalysing and scaling ideas. Overall, the aim is to surface, improve, and scale initiatives that build resilience.
Since 2015, GRP has held three 'challenges,' where, through a competitive process, groups were selected to participate in the Incubator and receive support. The type of support provided ranges from mentoring to funding, with a focus on catalysing ideas and models, preparing for pitching ideas to investors, and scaling on-the-ground activities. The incubator has worked with innovations covering a wide variety of themes including flooding, peacebuilding, mangrove restoration, floating houses, ecotourism, plastic waste recovery, trading platforms, Fairtrade, renewable energy, infrastructure, farming practices, insurance products, early warning systems and more.
Innovative ideas that make it to GRP's Incubator balance social and ecological elements in creating resilience solutions for those most affected by climate change. Innovations are also meant to be scalable, so the solution can be applied to a wider context. The Incubator process is designed to prepare groups to pitch ideas for additional funding to be able to scale up their ideas.
Hornberg, who has a background in psychology, management consultancy, start-ups, and development, conducts the Incubator process in two components:
Practical approach
Leadership Academy
Practical approach
To assess the viability of an innovative idea, the Incubator uses several tools to better understand the scalability and resilience building capacities. The idea is to make the innovation as scalable and resilient as possible.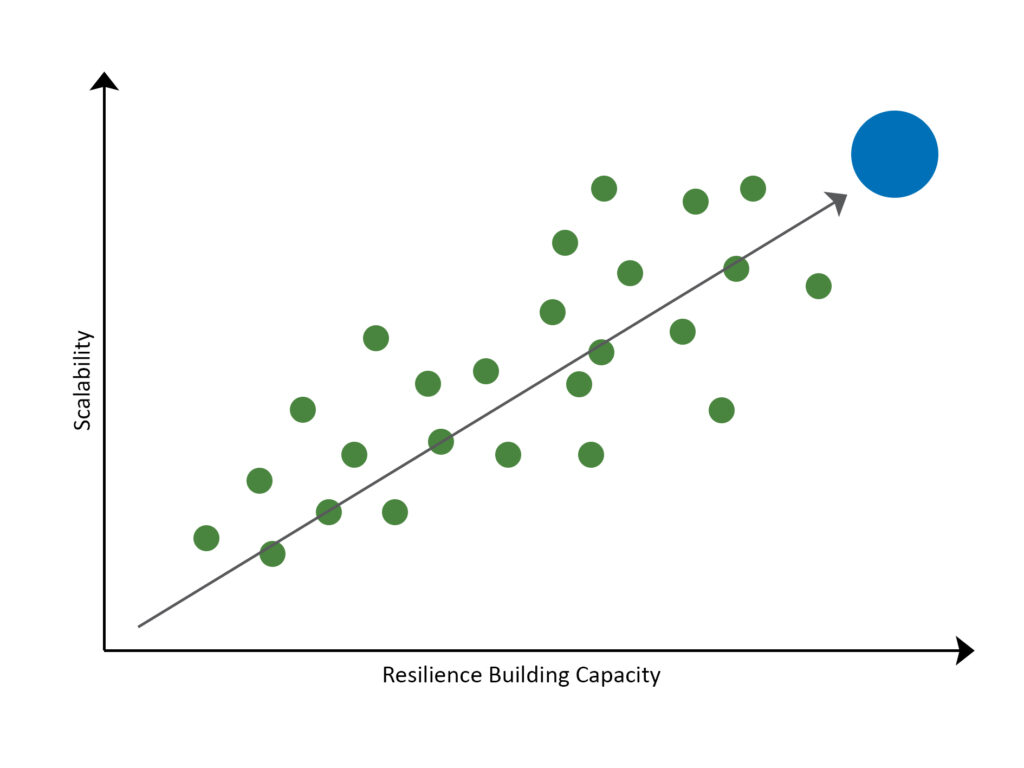 One type of tool includes different mapping exercises, where groups work together to better understand innovative idea in terms of risks, resilience building capacity, scalability, and value chains. Through this exercise, different leverage points can be identified and then acted upon, Hornberg explains.
"For example, maybe you realize that there is a bigger market that can be accessed, or maybe you realize that you will need to get government support and start providing research or white papers to make your innovation better understood. Maybe you can hand off one of your weaknesses to a partner and focus on your strengths."
MetaMeta, who participated in the Global Resilience Challenge and the Water Window Challenge, benefited from the tools used in the practical approach. Their innovation, Green Roads for Water, has been successfully implemented and picked up by the World Bank and Asian Development Bank.
In addition, to better understand the innovation itself, the practical portion of the Incubator also looks at the context in which the innovative idea lives. Drawing upon systems thinking theory and the iceberg model, the Incubator highlights the importance of context when it comes to implementing an idea. More specifically, some exercises in the Incubator process work to reveal underlying stresses that might not be initially obvious.
Those who have participated in an Incubator found the practical approach applicable beyond the experience itself. Travis Bunt from OneArchitecture, a design and planning firm that typically works with public projects and international development, participated in GRP's Water Window Challenge explains:
"The Incubator has served as our guide, interpreter, Sherpa; helping us, the naive foreigners, in a strange land. Since our initial pilot project, we have been, and hope to continue, leveraging the knowledge and the network of the Incubator to develop strategies for scaling. The advice on how to package, and re-package, components of a larger idea into tailored, fundable elements has been invaluable – not just for the original GRP work, but for our continued efforts elsewhere in Southeast Asia."
Leadership Academy
The second component of the incubator is the Leadership Academy that seeks to illuminate what makes an innovative idea successful.
Through the Leadership Academy, Hornberg works with groups to better understand internal factors; individual and group dynamics; and external factors; the context within which the innovation exists.
As development and entrepreneurial projects often come with professional, personal, and financial stresses, Hornberg believes it is important to equip groups with the tools to deal with occurrences operating alongside implanting an innovative idea. Creating awareness about some of the subconscious processes and external factors at play also improves the likelihood of success.
"Communication, trust, safe space. Somewhere where you can just be authentic," explains Hornberg. "In order to deliver a successful development project, you need really strong people who are equipped to deliver these things in the field."
The process outlined above is one prerequisite for successful innovation, but it means little if you do not give attention to the people doing the work. The team behind an innovation largely determines if implementation will be successful and this is why developing leadership is such an essential step in the innovation process.
Meena Palaniappan from AtmaConnect participated in GRP's Innovation Challenge. When reflecting on the process, she decribed:
"Often when running an innovative startup, we are mired in fighting fires, and in wading through the daily needs of our organization. I learned the importance of taking a step back to look at the bigger picture and making decisions from a much higher perspective. It was valuable to think through strategically how we can all engage in building the world we want, by assessing existential risks and promising opportunities and charting the steps to get there."
Available to all GRP partners
GRP Partners can access the Incubator tools, even if they are not taking part in a formal Incubator process.
As Hornberg explains, "This community of practice we are building will run activities, like the Leadership Academy. We will also run workshops on how we do mapping exercises and ideation workshops."
To access these tools, or if you have any questions, send an email to jhornberg@globalresiliencepartnership.org